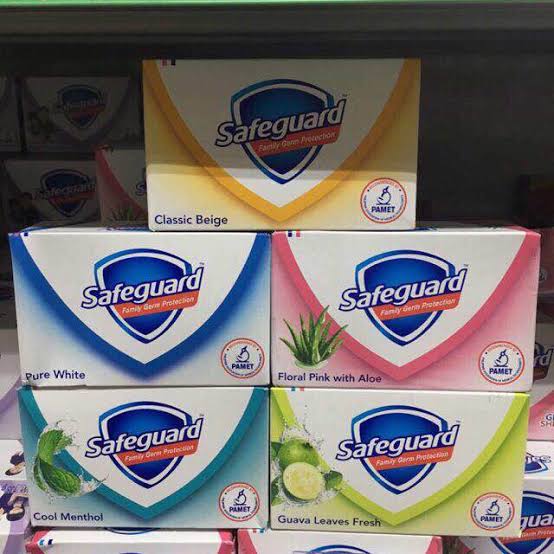 Safeguard Antibacterial Soap is a popular brand of antibacterial soap that helps to kill germs and bacterias on the skin. It is known for its effective cleansing properties and long-lasting freshness.
This soap is highly regarded for its effectiveness in killing germs and bacterias. Users appreciate its ability to provide a thorough and refreshing cleansing experience that makes you renewed.
It is known to have a long-lasting fragrance and leaves your skin feeling clean and revitalized. It is trusted for its antibacterial properties, making it a reliable choice for maintaining hygiene and preventing the spread of infections and germs.
There are several ways you can use safeguard antibacterial soap but remember to store it in a dry place when not in use to extend its lifespan.
Handwashing: Safeguard soap is excellent for regular handwashing to remove dirt, grime, and bacteria from your hands. Wet your hands, lather the soap, and scrub for sometime before rinsing.
Showering: You can use safeguard soap in the shower to cleanse your entire body. Apply the soap to a sponge or directly onto your skin, lather well, and rinse off for a refreshing body.
Face cleansing: Safeguard soap can be used as a facial cleanser to remove excess oil, dirt, and bacterias from your face. Wet your face and rub the soap, then massage into your skin, and rinse.
Shaving: Safeguard soap can also serve as a shaving cream substitute. Apply a thin layer of the soap to your damp skin before shaving to provide lubrication and help prevent irritation.
Cleaning: This soap can be used to clean various household items, such as brushes, combs, and even small stains on fabrics. Rub the soap directly onto the item or wet it and then you create a lather, then you rinse or wipe clean.
I highly recommend safeguard antibacterial soap for all skin types; be it sensitive, dry, oily, normal, or combination skin. This soap does not lighten the skin, so it can be used by everyone.
You can also try tetmosol soap, dettol soap, sanitol soap, or dove soap as alternative.
Safeguard Soap Ingredients:
Water, Glycerin, Palm Kernel Acid, Citric Acid, Tetrasodium Etidronate, Pentaerythrityl Tetra-Di-T-Butyl Hydroxyhydrocinnamate, CI42053, CI 47005 Sodium Chloride, Sodium Palm Kernelate, Sodium Palmate, Tapioca Starch, Talc, Titanium Dioxide, Zinc Pyrithione, Zinc Sulfate, Fragrance.
Safeguard Soap Side Effects:
It doesn't have any side effects.
Safeguard Soap Benefits:
1: It softens the skin
2: It brightens the skin
3: It exfoliates the skin
4: It smoothens the skin
5: It unifies the skin tone
Is Safeguard Soap Antibacterial?
Yes, it is an antibacterial soap.
Is Safeguard Soap Good For Face?
Yes, it is good for the face.
Is Safeguard Soap Good For Babies?
Yes, it is good for babies skin.
Is Safeguard Soap Safe For Pregnant Women?
Yes, it is safe for pregnant women.
Is Safeguard Soap Safe For Dogs?
Yes, it is good for dogs.
Is Safeguard Soap Safe For Cats?
Yes, it is good for cats.
Does Safeguard Soap Lighten The Skin?
No, it doesn't lighten the skin.
Does Safeguard Soap Darken Skin?
No, it doesn't darken the skin.
How Good Is Safeguard Soap:
It is a very mild soap that will soften, cleanses, and protect your skin from germs and bacteria.
How To Use Safeguard Soap:
Rub the soap with water on your palm to form bubbles and apply on wet face. Massage the lather gently and rinse off. Clean your face with a towel and apply some moisturizer afterwards.
Safeguard Soap Price In Nigeria:
It cost N500 in markets and cosmetics shops.
Where To Buy Safeguard Antibacterial Soap:
You can buy the original soap online from trusted vendors either on Jumia or on Konga.
Watch & Subscribe To Our YouTube Channel: