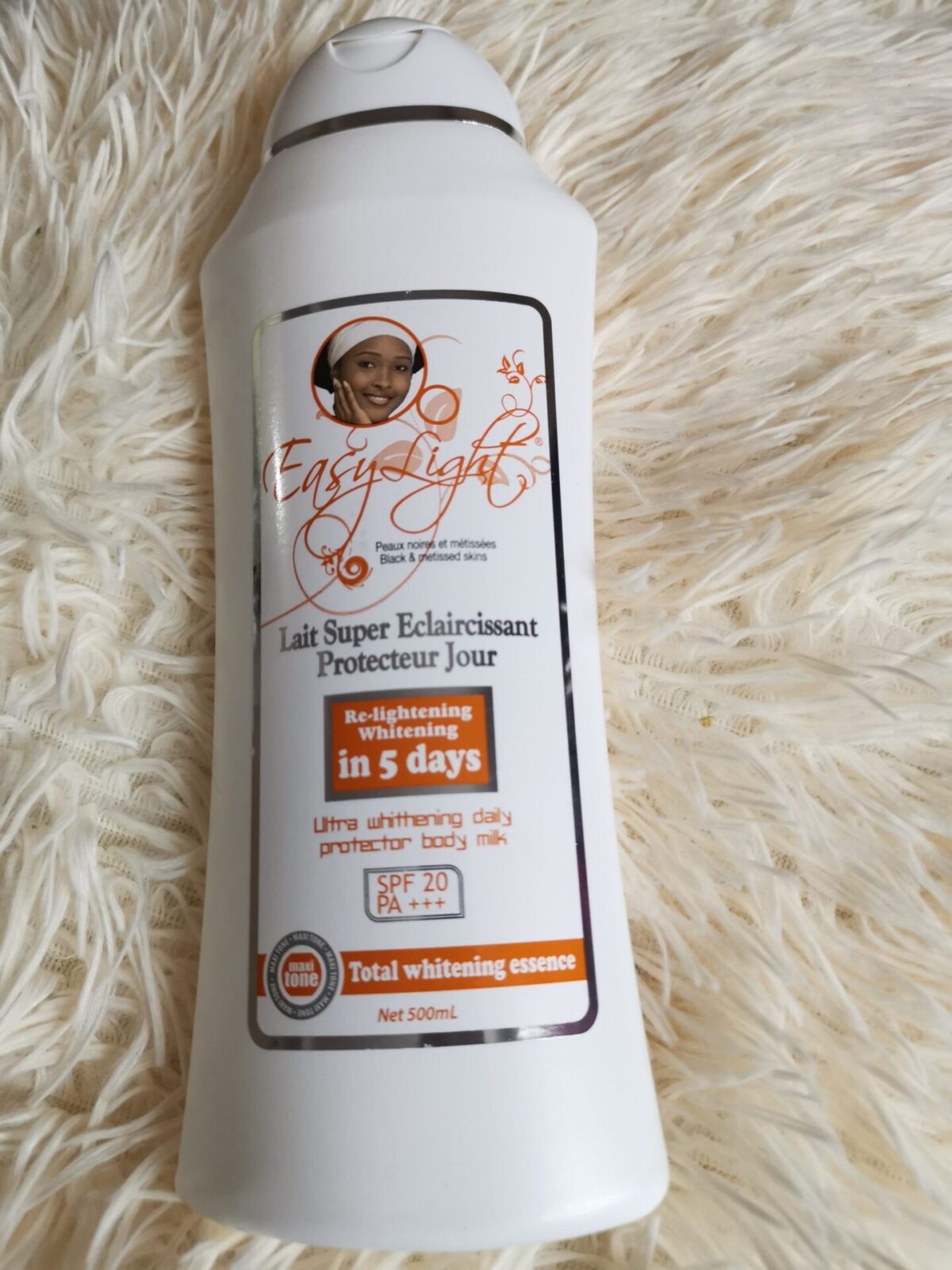 Easy Light Lotion is an effective cream specially designed for dark and chocolate skin people who wants to gently lighten their skin gradually without ruining their natural skin complexion.
This cream will gradually tone your skin complexion from black to chocolate and then to a flawless caramel skin without giving you side effects. It clears patches and uneven skin tone.
It is enriched with ingredients that protects your skin against sun damage, leaves your body supple, smooth, soft and silky. Easy light lotion is lightweight and can also be used on the face.
This lotion is high in quality, very moisturizing and works effectively in lightening and fading out dark spots, acne scars, sunburn, wrinkles, blemishes, freckles and hyperpigmentation.
It smoothens the skin and clears brown spots, acne scars, blemishes, dark spots, melasma and discoloration. Easy light lotion will give you a uniform, clear, flawless and glowing complexion.
Easy light cream is a lightening body lotion that does a good job in blending your skin tone. It removes any form of hyperpigmentation on your body and makes your skin beautiful and radiant.
It also inhibits melanin production and reduces sebum production on the surface of your skin to give you a very healthy, purified, youthful looking, luminous and firm skin that is smooth and soft.
I highly recommend easy light lotion to people who are black or chocolate in complexion and wants to get one or two shades lighter or just to brighten up their skin color and make it glowing.
Easy Light Lotion Ingredients:
Aqua, Mineral Oil, Stearic Acid, Ceteraryl Alcohol, Isopropyl Myristate, Silicon Fluid, Glycerine, Kojic Acid, Fruits Acids, Carrot Oil, Vitamin E, Sunscreen, Ascorbic Acid and Fragrance.
Easy Light Cream Side Effects:
It doesn't have any side effects.
Is Easy Light a Bleaching Cream?
No, it is not a bleaching cream.
Does Easy Light Contain Hydroquinone?
No, it doesn't contain hydroquinone.
How Good Is Easy Light Lotion:
It is a really good cream that is mild on the body, brighten up and evens out your skin complexion.
How To Use Easy Light Lotion:
Pump out some amount of the lotion on your palm and gently massage it all over your body until it is completely absorbed into your skin.
Easy Light Lotion Price In Nigeria:
It cost N2000 in markets and cosmetics shops.
Where To Buy Easy Light Cream:
You can buy the original cream online from trusted vendors either on Jumia or on Konga.
Watch & Subscribe To Our YouTube Channel: