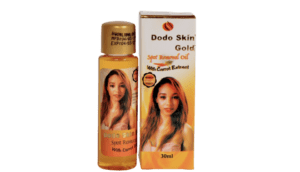 Dodo Skin Gold Oil is a serum that aids in the elimination of freckles, dark spots, and an uneven skin tone. In addition to this, it protects the skin against the effects of aging while gently nourishing and hydrating the face and body.
The oil is an incredible skin-repairing and skin-lightening serum that not only hydrates and nourishes your skin but also eliminates skin flaws such as hyperpigmentation, blemishes, and discolouration. It does all of this while moisturizing and nourishing your skin.
This oil can help erase dark spots, liver spots, acne scars, sunburn scars, and other scars, while also increasing the natural brightness of your skin. It gently brightens the complexion while also levelling out the tone of the skin.
It evens out the texture of your skin and imparts a natural-looking glow to it at the same time. Your skin will be left hydrated and moisturized after using it. This oil is not only capable of being used directly on the skin all over the body, including the face, but it is also used in a great deal of serums, face creams, and body lotions.
It is commonly utilized by the manufacturers of skincare products as a means of increasing the efficacy of other skincare products. This product is suitable for use by people irrespective of their gender and can be applied to any type of skin.
The super oil with carrot extract was developed with the express intention of removing freckles, black spots, and uneven skin tone. In addition to these benefits, it helps prevent the indications of aging and hydrates and moisturizes the body.
Before coming across this oil, I used to have this weired skin tone that cause people to stare at me wherever I go to. I felt belittled and all these because of my skine tone. I had an uneven akin tone and this developed as a result of a wrong lotion I made use of when I went for IT last year.
I tried countless skincare routine but none worked so I gave up. Few weeks ago, I came across an online cosmetic vendor. I told her the condition of my skin and she recommended this oil. She said I'm going to see the result in just 5 days of using the oil consistently after bath.
I decided to give the oil a chance. I placed an order and it was delivered to me. I started using the oil and in just two weeks, my skin tone became even. I fell deeply in love with my skin.
I highly recommend dodo skin gold oil to everyone, especially those that are suffering from stretch marks and an uneven skin tone. It will rejuvenate your skin and make it healthy.
You can also try vaseline cocoa oil, palmer's cocoa oil or lemon clear oil as an alternative.
Dodo Skin Gold Oil Ingredients:
Aqua, Methylparaben, Mineral Oil, Polysorbate 60, Propylene Glycol, Ascorbic Acid, Allantoin, Collagen, UVB, BHT, Carrot Oil and Fragrance.
Dodo Skin Gold Serum Side Effects:
It doesn't have any side effects.
Dodo Skin Gold Serum Benefits:
1: It nourishes your skin
2: It moisturises your skin
3: It remove dark spots on the skin
4: It prevent and clears stretch marks
Is Dodo Skin Gold a Bleaching Oil?
No, it is not a bleaching oil.
Does Dodo Skin Gold Oil Contain Hydroquinone?
No, it doesn't contain hydroquinone.
How Good Is Dodo Skin Gold Oil:
It is a very good oil that helps to moisturise the skin without leaving any greasy residue behind.
How To Use Dodo Skin Gold Oil:
You can massage the oil gently into your damp skin until fully absorbed or mix it into your lotion.
Dodo Skin Gold Oil Price In Nigeria:
It cost N800 in markets and cosmetics shops.
Where To Buy Dodo Skin Gold Oil:
You can buy the original oil online from trusted vendors either on Jumia or on Konga.
Watch & Subscribe To Our YouTube Channel: