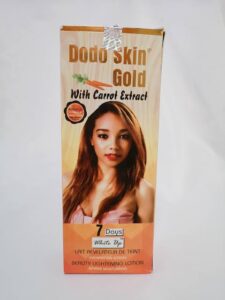 Dodo Skin Gold Lotion with carrot extract helps to lighten your face and body by removing dark spots. This cream is a very active lotion to use if you want to bleach your skin in less than a week.
It has vitamin c and fruit acids like AHA. Escalol, uvinol, and kojic acid are also included in the cream, along with carrot extract for fast skin lightening and it also aids in skin smoothening.
If you want to temporarily lighten your skin, you can simply purchase a bottle of the cream with carrot extract from any cosmetic shop, and keep using it. But I'll advice you stop using it if you get any side effects or bad reactions on your body.
This cream brightens the body and face, and it removes freckles and dark spots to promote a youthful look. It also helps to hydrate the skin, and this is because the cream contains olive oil.
Through the slow disappearance of blemishes, dark patches, and stretch marks caused by pregnancy, this special cream gives you a more youthful appearance and an evenly toned skin.
This cream has been a game-changer in the beauty industry. I once met a lady whose skin was so exquisite. Her skin screams riches. Her skin was just too flawless. I first came into contact with her the day I went to the bank to pay my school fees and other necessary fees.
She came to me and asked me to lend her my pen. Immediately I laid eyes on her, I liked her. I wanted to be friends with her. After she used my pen, she returned it and mouthed a thank you.
I then discovered that she was a new student who came to pay her school fees. I told her I was in my final year, and she was wowed. I told her to let me know whenever she needed my help with anything. She thanked me with a smile.
We exchanged contacts, and we kept in touch. I went to her lodge to see her on a sunday noon. That was how I discovered she uses this cream. She said she has been using it for months now and never for once regretted using the cream.
I told her I'll try the cream, and she said it would suit my skin complexion very well. According to her, her skin was not that flawless until she started using this cream couple of months ago.
I highly recommend dodo skin gold lotion to anyone who desire to have a light complexion. It will brighten and whiten your skin and you don't even need to use it everyday to see the result.
You can also try white express lotion, goji berry lotion or pretty white lotion as an alternative.
Dodo Skin Gold Lotion Ingredients:
Deionized Water, Stearic Acid, Glycerin Stearate, Vitamin A, Cetyl Alcohol, Vitamin C, Escalol Uvinol, Isopropyl Myristate, Allantoin, Petroleum Jelly, Natural Honey, Fragrance, Alpha Hydroxyl Acid (AHA), Kojic Acid, Lactic Acid, Olive Oil.
Dodo Skin Gold Cream Side Effects:
1: It gives brown nails
2: It gives some people sunburn
Dodo Skin Gold Lotion Benefits:
1: It lightens the skin
2: It promotes youthful look
3: It also moisturizes the skin
4: It clears dark spots and freckles
Is Dodo Skin Gold Lotion a Bleaching Cream?
Yes, it is a bleaching cream.
Does Dodo Skin Gold Cream Contain Hydroquinone?
No, it doesn't contain hydroquinone.
How Good Is Dodo Skin Gold Lotion:
It is a really good lotion that would clear your skin and make your complexion very beautiful.
How To Use Dodo Skin Gold Lotion:
Pump out some amount of the lotion on your palm and gently massage it all over your body until it is completely absorbed into your skin.
Dodo Skin Gold Lotion Price In Nigeria:
It cost N1000 in markets and cosmetics shops.
Where To Buy Dodo Skin Gold Cream:
You can buy the original lotion online from trusted vendors either on Jumia or on Konga.
Watch & Subscribe To Our YouTube Channel: