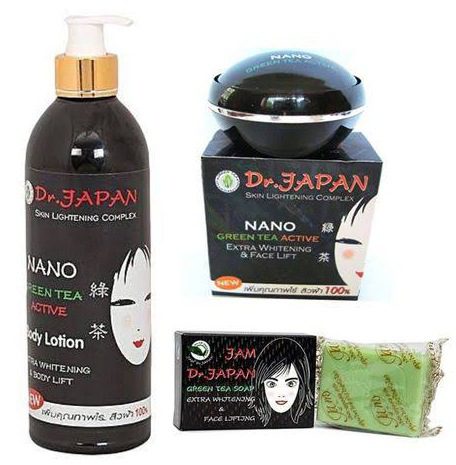 Dr Japan Cream is a whitening body lotion with active ingredients that lightens the complexion. It prevents pathogens, reduces excess oil, closes pores and removes dirts and impurities.
This cream aids in the removal of organisms that can cause acne and cold sores. It is great for oily skin, since it acts as a natural astringent, reduces excess sebum and tightens the pores.
It can make your dull complexion brighter and smoother. Green tea helps in the breakdown and removal of dead skin cells from the body and general skin rejuvenation for a refreshed body.
Because green tea is anti-inflammatory, it helps to reduce puffy eyes, dark circles under eyes and a swollen face, giving your skin a refreshed, awake, clearer and youthful looking appearance.
It fights against free radicals, this product also aid in preventing oxidative damage, wrinkles and blackheads on the surface of the skin to create a refreshed appearance without blemishes at all.
This cream lightens and brightens your skin. It clears dark spots on various parts of the skin and beneath the eyes. It fades away acne scars because it contains a natural antibacterial agent.
Dr Japan lotion was developed to combat and remove skin flaws. Its enriched formula will ensure a constant and clean complexion. Anti-acne, brightening, anti-stain and anti-pimples.
It also speeds up the process of skin whitening. It clears hyperpigmentation, brown patches, and can be used to lighten tough areas of the body such as the knuckles, knees, elbows and feet.
I highly recommend dr japan skin lightening complex to anyone who wants to lighten and brighten up their skin. It is very effective in lightening of the skin in a short period of time.
You can also try lemon fresh lotion, pure carrot gold lotion or white up lotion as an alternative.
Dr Japan Lotion Ingredients: 
Water, Green Tea, Coconut Oil, Sodium Hydroxide, Glycerin and Perfume.
Dr Japan Cream Side Effect:
It doesn't have any side effects.
Is Dr Japan Lotion a Bleaching Cream?
No, it is not a bleaching cream.
Does Dr Japan Cream Contain Hydroquinone?
No, it doesn't contain hydroquinone.
How Good Is Dr Japan Lotion:
It is a very good cream that gets rid of your skin problems and make your complexion even tone.
How To Use Dr Japan Cream:
Pump out some amount of the lotion on your palm and gently massage it all over your body until it is all completely absorbed into your skin.
Dr Japan Cream Price In Nigeria:
It cost N3000 in markets and cosmetics shops.
Where To Buy Dr Japan Lotion:
You can buy the original cream online from trusted vendors either on Jumia or on Konga.
Watch & Subscribe To Our YouTube Channel: