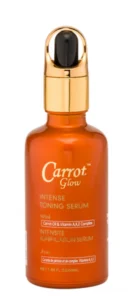 Carrot Glow Serum is a toning serum with special combination of effective ingredients from mother nature that is made to rejuvenate, repair, restores and moisturizes your whole skin.
Carrot is known for its natural ability to improve skin tone, elasticity, and general skin health. This serum is good for oily and acne-prone skin and it provides an amazing tone and clarifying results.
This serum gives you a soft and dullness free skin and also gives you timeless beauty. It nourishes your skin and gets rid of wrinkles, blemishes, scars, freckles and skin radicals.
Its natural components gives your skin a youthful looking appearance, makes it clear, smooth and soft. It also aids in maintaining an even tone skin complexion that is so luminous.
Skin problems including dull looking and patchy skin is helped by the oil. Use this all-natural skin serum on your body and face to protect your skin. This serum is suitable for all type of skin.
My cousin Alex can attest to the goodness of this serum. He developed scars from acne and he lived with it for many months. When we went for our family get together, he asked me to tell him what to use since I am a skincare expert.
I was actually looking forward to trying out this carrot glow serum when am done with the oil I was using at that point. So I recommended it for him, since I really didn't have any skin issues at that time and would not know if it really worked.
I asked him to try it and patiently wait for it to work on his acne scars, as I would be blogging about his review and I needed to really know what the carrot glow serum is all about and the duration it takes for it to work and give results.
He took my advice, bought the serum and started using it. He called me 3 weeks later to appreciate me for introducing him to the serum because all his stubborn acne scars are gone.
I highly recommend carrot glow serum to anyone with acne scars, wrinkles, blemishes, freckles and discoloration. It is very effective and is suitable for all skin types and gender.
You can also try skin doctor serum, pei mei vitamin c serum or tiatio serum as alternative.
Carrot Glow Serum Ingredients:
Aqua (Water), Mulberry (Morus Alba) Root Extract, Benzyl Alcohol,  Carbomer, Ascorbic Acid, Propylene Glycole, Vitamin E, Organic Carrot Extracts, Citrus Limonum, Licorice (Glycyrrhiza Glabra) Extract, Glycerin, Retinyl Palmitate, Allantoin, Carrot Oil, Phenoxyethanol, Arbutin, Citric Acid, Parfum (Fragrance), Vitamin K, Sodium Lauryl, Sulfate, Sodium Hydroxide, Sodium Metabisulfite and Di-Sodium EDTA.
Carrot Glow Serum Side Effects:
It doesn't have any side effects.
Carrot Glow Benefits:
1: It tones the skin
2: It clears sunburn
3: It clears acne scars
4: It erases dark spots
5: It brightens the complexion
Is Carrot Glow a Bleaching Serum?
No, it is not a bleaching serum.
Does Carrot Glow Serum Contain Hydroquinone?
No, it doesn't contain hydroquinone.
How Good Is Carrot Glow Serum:
It is a good oil that erases black spots and makes your complexion flawlessly beautiful.
How To Use Carrot Glow Serum:
You can massage the oil gently into your skin until fully absorbed or mix it into your lotion.
Glow Serum Price In Nigeria:
It cost ₦6000 in markets and cosmetics shops.
Where To Buy Carrot Glow Oil:
You can buy the original serum from trusted vendors online either on Jumia or on Konga.
Watch & Subscribe To Our YouTube Channel: