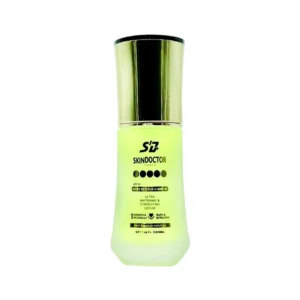 Skin Doctor Serum is a natural dermatologist whitening and correcting serum that slows down the skin rapid aging. It revitalizes the skin and offers the best defense against elasticity loss.
It has an intense whitening effect on both the face and body that brightens and lightens your complexion fast. This serum is totally oil free and was produced to treat facial blemishes.
This antioxidant serum works to lessen the damaging effects that pollutants have on the skin and face. It effectively fades melanin and deeply moisturizes your skin, leaving it radiant.
It is enriched with brightening and lightening ingredients like arbutin. This serum can be applied directly to the skin or combined with any body lotion, cream or face cream of your choice.
This serum really lives up to its name because my boyfriend can attest to this. He suffered from uneven skin probably as a result of the lotion he was using. He also had serious acne on his face.
He tried several products we could think of but non worked and he got tired. If it were up to him, he wouldn't mind leaving his skin problems like that but being the skincare expert I am, I can't let my lover look the opposite of what I represent.
I made up my mind to keep forcing him to try every product I recommend until we get rid of his skin problems. So I kept on making more researches and I came across this serum online that I haven't used before and I told him to try it.
I quickly placed an order online for two on jumia. When it arrived, I quickly went to his house and when I showed it to him, he shook his head and he muttered some words only him understands.
He was obviously tired of trying out one product after another but I was able to persuade him to give this serum a shot after threatening him with a break up if he does not follow my instructions.
He apologized for being insensitive and praised me for not just caring for him but also building a platform that not only solves skin problems but gives advices and reviews of products to save people from everlasting damages and regrets.
My boyfriend decided to try the serum and few weeks after using it, he invited me over to an exotic restaurant for lunch and I couldn't believe my eyes when he came out of his car. I just jumped on him with excitement and everybody kept watching our public display of affection.
I haven't seen him for those weeks because I was doing a research project in school and no time to even video call or anything, we just made quick calls and text messages to keep in touch.
After we finished having lunch and making up for the lost time, he asked me where he can purchase more of the serum because he now has dark spots left behind after the acne dried.
I told him to buy it from jumia in order not to get the fake ones which are rampant. He logged in and purchase three bottles of skin doctor serum and informed me when it was delivered to him.
Few days ago, my boyfriend surprised me with an iPhone 13 Pro Max, my dream phone as a way of thanking me for introducing him to this wonderful serum and for not giving up on him even though he gave up on his skin conditions.
I highly recommend skin doctor serum to those who are suffering from uneven skin tone, acne, dark spots. It is very effective and suitable for all skin types no matter how stubborn your skin is.
You can also try ami white serum, pei mei vitamin c serum or tiatio serum as alternative.
Skin Doctor Serum Ingredients:
Butylparaben, Ascorbyl Glucoside, Allantoin, Fragrance, Tocopheryl Acetate, Butylene Glycol, Water, Cyclopentasiloxane, Niacinamide, Arbutin, Dimethicone, Titanium Dioxide, Triethanolamine, Hydrolyzed Collagen, Adenosine, Carbomer, Glycerin, Disodium EDTA, Phenoxyethanol, Methylparaben, Ethylparaben, Propylparaben
Skin Doctor Serum Side Effects:
It doesn't have any side effects.
Skin Doctor Benefits:
1: It gets rid of uneven skin tone
2: It reduces the appearance of dark spots
3: It improve the overall health of your skin
Is Skin Doctor a Bleaching Serum?
No, it is not a bleaching serum.
Does Skin Doctor Serum Contain Hydroquinone?
No, it doesn't contain hydroquinone.
How Good Is Skin Doctor Serum:
It is a good serum that would get rid of your skin problems and make you beautiful and luminous.
How To Use Skin Doctor Serum:
You can massage the serum gently into your skin until fully absorbed or mix it into your lotion.
Skin Doctor Serum Price In Nigeria:
It cost ₦4500 in markets and cosmetics shops.
Where To Buy Skin Doctor Serum:
You can buy the original serum from trusted vendors online either on Jumia or on Konga.
Watch & Subscribe To Our YouTube Channel: