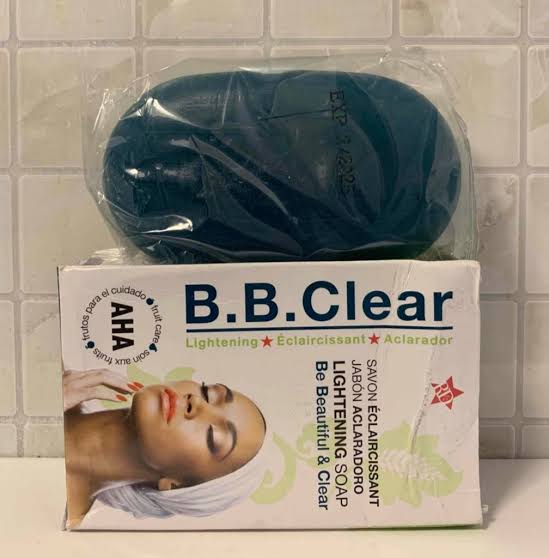 BB Clear Exfoliating Soap is a lightening and brightening soap that deep cleanses the skin of dirts, impurities and excess oil. This soap also moisturises, nourishes and hydrates your skin.
It contains rich conditioner, collagen, nutrients and other active components that are specially designed to clear, nourish, hydrate, preserve and also improve the general well-being of your skin.
Bb clear soap protects the skin against all water loss and to support your skin protective barrier. It also makes your skin complexion to be lighter, brighter, radiant and flawless within a short time.
It is a multi-function soap with effective and strong whitening complex and fruits acids to moisturise your skin. It restores, preserves and enhances the skin elasticity without any grease.
This soap promotes skin renewal and turnover. It exfoliates all dead skin cells to reveal the newer skin underneath and this soap has restorative properties that softens and smoothens the skin.
I have used bb clear exfoliating soap on my face and body and I can confidently tell you that it is a good skin lightening soap that will brighten your complexion and clear dark spots from your skin.
Bb clear body lotion and bb clear face cream are also very good product from the same company.
BB Clear Soap Ingredients:
Sodium Palmitate, Sodium Kemelate, Glycerine, AHA, Palm Kernel Acid, Sodium Thiosulfate, Sodium Chloride, Sorbitol, EDTA, Titanium Dioxide, Benzyl Salicylate, Aqua and Fragrance.
BB Clear Soap Side Effects:
It doesn't have any side effects.
Is BB Clear Soap a Bleaching Soap?
No, it is not a bleaching soap.
Does BB Clear Soap Lighten The Skin?
Yes, it lightens the skin complexion.
Does BB Clear Soap Contain Hydroquinone?
No, it doesn't contain hydroquinone.
How Good Is BB Clear Soap:
It is a good soap that will clear, lighten and brighten up your skin and make it beautiful.
How To Use BB Clear Soap:
Rub the soap with water on your palm to form bubbles and apply on wet face. Massage the lather gently and rinse off. Clean your face with a towel and apply some moisturizer afterwards.
BB Clear Soap Price In Nigeria:
It cost N500 in markets and cosmetics shops.
Where To Buy BB Clear Exfoliating Soap:
You can buy the original soap online from trusted vendors either on Jumia or on Konga.
Watch & Subscribe To Our YouTube Channel: