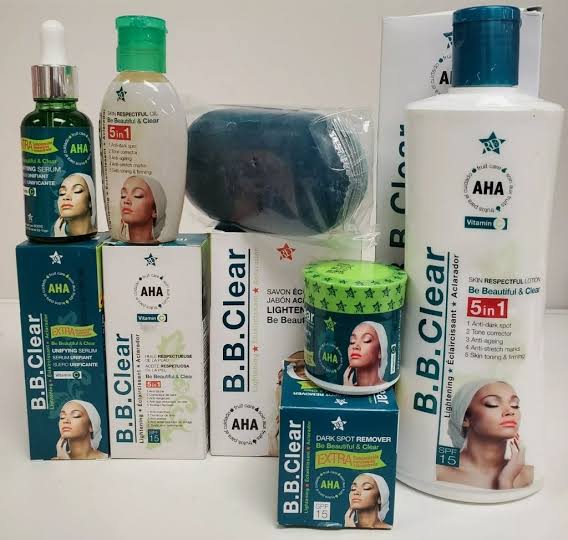 BB Clear Lightening Cream is formulated with plant-base ingredients that exfoliates your skin. It is very active and works fast in brightening up your complexion within a short period of time.
I got to know about this lotion while I was talking with a fellow patient at a hospital where I was admitted and receiving treatment. I was telling her that the cream am using is no more working.
Because I was now getting dark and my skin was very dull. I also had alot of dark spots and red spots all over my body due to the terrible mosquito bites in the hospital environment.
The kind of mosquitoes in that hospital is unexplainable. Even after spraying insecticide, they will still bite you and sing in your ear. To be sincere that hospital gave me extra problem added to the one I took there. The mosquito bites made my skin that was smooth rough.
So I was telling the girl that, when I get home I will need to look for something to clear up my skin and also brighten up my dull complexion. She then suggested to me that I try bb clear lightening cream. That it will solve all of my skin problems and also lighten my skin complexion.
She said her sister who lives away uses it and her skin is superb. That she is also planning to buy the bb clear body lotion after she finish using her current cream. But then I decided in my mind that I was going to first try a lotion a woman had earlier recommended to me before.
So when I got home from the hospital, I first bought the cream the woman recommended to me. I used it and it cleared my dark spots and lightened my skin before it started giving me many side effects that made me stop using it.
I now remembered my friend at the hospital suggestion and decided to at last give bb clear lightening cream a try. I bought it and used the first bottle and it was indeed superb. It made me so fair and my skin was glowing until I bought the second container and my nightmare began.
The second one started giving me stretch marks and my knuckles were now getting dark. So I went online to search about the bb clear lotion and I found out some other people were also experiencing the same and more side effects.
Some people also said the cream was choking them after applying it on their face and neck. Which I believe is because they maybe allergic to one or more of the ingredients used in making the cream. But all of us agree on this one thing; which is that bb clear lotion lightened our skin.
As for some other people, they haven't seen any side effects on their body, even after using five containers of the lotion. They say they are still glowing and loving their skin and would continue using bb clear lotion for as long as it is possible.
So in summary, I think bb clear lightening cream works differently for all skin types. So you can give it a try and find out for yourself. My advice is to mix it with any anti-stretch marks cream to prevent that side effect and make sure to avoid sunlight whenever you are using this bb cream.
Bb clear soap and bb clear face cream are also really good product from this same company.
BB Clear Cream Ingredients:
Demineralized Water, Rose Hip Oil, Argan Oil, Carrot Oil, Vitamin E, Alpha-Hydroxyl Acid (AHA), Citric Acid, Ascorbic Acid, Stearic Acid, Lactic Acid, Glycerine, Isopropyl Myristate, Isopropyl Myristate, Cetyl Stearyl Alcohol, Propylene Glycol, Sodium Metabisulfite, Sodium Lactate, Tocopheryl Acetate, UV protection, Fragrance.
BB Clear Cream Side Effects:
1: It chokes some people
2: It gives some people red face
3: It gives some people dark feet
4: It gives some people sunburns
5: It gives some people white spots
6: It gives some people green veins
7: It gives some people stretch marks
8: It gives some people dark knuckles
9: It makes in-between the fingers white
10: It has a very strong smell that burns the eyes
Is BB Clear a Bleaching Cream?
Yes, it is a bleaching cream.
Does BB Clear Lotion Contain Hydroquinone?
No, it doesn't contain hydroquinone.
How To Use BB Clear Cream:
Pump out some amount of the lotion on your palm and gently massage it all over your body until it is completely absorbed into your skin.
How To Know Original BB Clear Cream:
The original bb clear lotion is made in Togo and comes in a paper packet. This bb cream is pure white in colour and it is medium in consistency.
BB Clear Cream Price In Nigeria:
It cost N2000 in markets and cosmetics shops.
Where To Buy BB Clear Lotion:
You can buy the original cream online from trusted vendors either on Jumia or on Konga.
Watch & Subscribe To Our YouTube Channel: