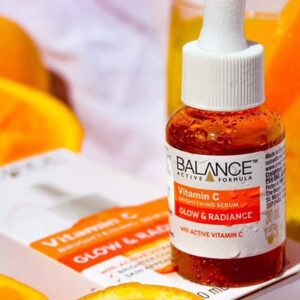 Balance Active Formula Vitamin C Serum is an advanced oil that is specially designed to give you radiance, unify your skin complexion and also make you glowing with reckless abandon.
This serum increases radiance, correct uneven skin tone and promotes a smoother, softer and healthier skin with no imperfections. It increases your natural beauty and make you look younger.
It also refreshes and brightens the appearance of dull looking skin. It protects you against the damaging effects of the sun and also prevent skin from getting dry, burned or even wrinkled.
This serum is a pro-radiance product that is lightweight and non-greasy. It has 6% Illumiscin and Stay-C 50. This oil also contains two forms of stabilized vitamin c, to help fade away spots and give the skin a brighter and more even tone.
I was discussing with my neighbour Susan one day and I asked her if she wasn't bothered about the hyperpigmentation all over her body and she said she is already used to her skin challenges.
Susan's skin was always looking rough, dry, and discolored whenever you see her. She is one of those people you would never see with a clear skin, no matter the season of the year. So I was becoming concerned and tried my best to help.
I told her this is nothing if she began a skincare routine and use a quick fix skincare product that doesn't give side effects. Susan told me she has tried all kinds of treatments but nothing worked.
So I told her the name of this serum but she searched for it everywhere for almost a week and couldn't find any shop selling it then she came back to me saying her village people are responsible for her predicament, that's why she can not find the solution I recommended for her.
It was so funny and I laughed very hard before telling her to place an order online and it will be delivered to her doorstep. She then followed my instructions and got this potent yet reasonably priced serum that gave her guaranteed result.
Susan's skin became smoother, softer, even tone and radiant after just a few weeks of using it. This serum saved her years of low self esteem and restored not only her beauty but confidence.
I highly recommend this balance active formula vitamin c serum to anyone whose skin became dull looking for whatsoever reason. It is suitable for all skin types and color and it really works.
You can also try roushun vitamin c serum, 6 drops serum or clinic clear serum as alternative.
Balance Active Formula Vitamin C Serum Ingredients:
Aqua, Glycerin, Phenoxyethanol, Carrageenan, Polysorbate 20, Ascorbyl Glucoside, Sodium Ascorbyl Phosphate,  Olea Europaea (Olive) Leaf Extract, Zinc PCA, Disodium EDTA, Tocopheryl Acetate, Parfum, Ethylhexylglycerin, Linalool, Limonene and Ascorbic Acid.
Balance Active Formula Vitamin C Side Effects:
It doesn't have any side effects.
Balance Active Formula Vitamin C Benefits:
1: Creates an even tone skin
2: It delays the onset of aging
3: It protects the skin against sun burn
4: Promotes skin tone, firmness, and radiance
Is Balance Active Formula Vitamin C a Bleaching Serum?
No, it is not a bleaching serum.
Does Balance Active Formula Vitamin C Contain Hydroquinone:
No, it doesn't contain hydroquinone.
How Good Is Balance Active Formula Vitamin C Oil?
It is a good serum that eliminates blemishes and makes your complexion very beautiful.
How To Use Balance Active Formula Vitamin C Oil:
You can massage the serum gently into your skin until fully absorbed or mix it into your lotion.
Balance Active Formula Vitamin C Serum Price In Nigeria:
It cost ₦7500 in markets and cosmetics shops.
Where To Buy Balance Active Formula Vitamin C Oil:
You can buy the original serum from trusted vendors online either on Jumia or on Konga.
Watch & Subscribe To Our YouTube Channel: