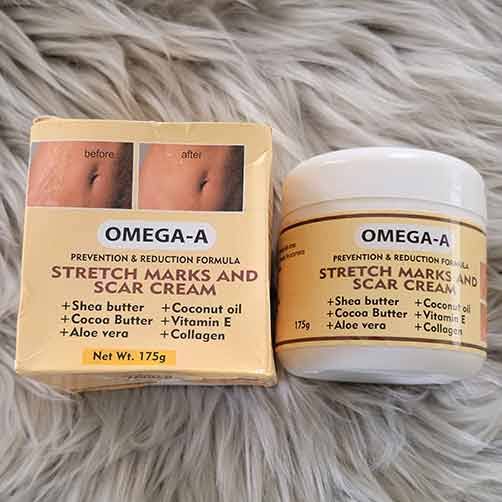 Omega A Stretch Mark Cream is an effective moisturizer specially formulated with some unique blends of skin antioxidants, vitamins, elasticizers, and lipids that works fast in the clearing of stubborn scars and stretch marks.
It is a repair cream that would rejuvenate and restore your damaged skin. This cream would reduce the appearance of your existing stretch marks and prevent new ones from coming out.
My aunt came to visit my mom and unlike her previous visits, I was around because I also visited to spend a few days with my parents. When I saw my aunt, I couldn't believe my eyes. She was looking more beautiful and younger than her age. She has also gotten bigger than before but it only added to her beautiful look.
I started showering her with praises because I'm someone who loves to give compliments. I kept telling her at random that she's beautiful and glowing as we were gisting and catching up.
She couldn't stop smiling. But after a while, she opened up to me that although she's glowing like this, she has a skin issue that has been giving her great concern. My aunty told me that she has so many stretch marks all over her body and more of it keeps coming out every now and then.
She has tried so many products and no positive results. She showed me and there were very big stretch marks all over her stomach, breast, arms, laps, buttocks and even on her legs. She seemed really concerned and I understood her plight.
Out of concern, I asked that we go to a supermarket together. After all, two heads are better than one. Before we left for the supermarket, I didn't have anything in mind actually but I just had the believe that one of the attendants can suggest something effective.
At the supermarket, we explained our ordeal to the attendant that welcomed us and we asked her for recommendations. Omega A stretch mark cream was among her recommendations and because I have already read about it somewhere, I asked my aunty to opt for it.
We thanked the attendant, bought the cream and some other stuff and then we left. My aunt started using it and surprisingly, her stretch marks started fading away gradually. This unexpected miracle brought so much happiness and relief to my aunt that she has not stopped praising me in front of others ever since then.
I highly recommend omega A stretch mark cream to anyone battling with stubborn scars of any kind. This moisturizer will gradually clear it up with consistency. Don't expect an overnight miracle because you will be disappointed.
You can also try shenic perfect legs, citro clear serum, or dr rashel serum as an alternative.
Omega A Stretch Mark Cream Ingredients:
Shear Butter, Cocoa Butter, Aloe Vera, Coconut Oil, Vitamin E and Collagen.
Omega A Stretch Mark Cream Side Effects:
It doesn't have any side effects.
Omega A Stretch Mark Cream Benefits:
• It evens out the skin
• It moisturises the skin
• It increases skin elasticity
• It fades away stretch marks
• It removes wrinkles and agelines
• It prevents new stretch marks from coming out
• It reverses damage caused by cream reactions
Can Omega A Clear Stretch Marks?
Yes, it clears away stretch marks.
Is Omega A a Bleaching Cream?
No, it is not a bleaching cream.
Does Omega A Contain Hydroquinone?
No, it doesn't contain hydroquinone.
How Good Is Omega A Stretch Mark Cream:
It is one of the best treatment cream out there for any skin problems you maybe suffering from.
How To Use Omega A Stretch Mark Cream:
Take some of the cream and gently massage it into your skin until it is all completely absorbed.
Omega A Stretch Mark Cream Price In Nigeria:
It cost N3000 in markets and cosmetics shops.
Where To Buy Omega A Cream:
You can buy the original cream online from trusted vendors either on Jumia or on Konga.
Watch & Subscribe To Our YouTube Channel: