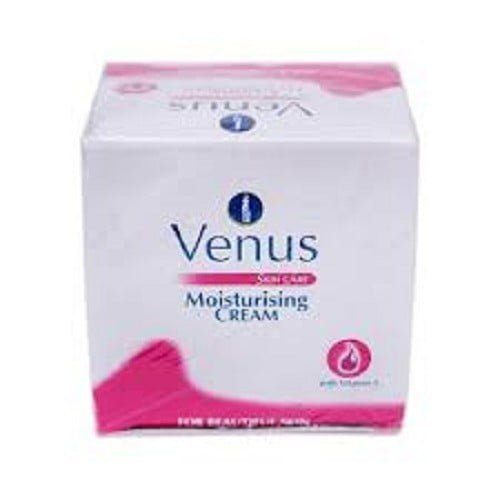 Venus Cream is a powerful, all-natural lotion that helps to balance out skin tone and conceal dark spots. It is a non-toxic, non-irritating lotion that doesn't have hydroquinone, mercury or steroid.
Many skin whitening creams use hydroquinone, a chemical bleaching ingredient that has been linked to cancer. When used in paint, titanium dioxide is a white powder that can irritate skin.
Alpha Hydroxy Acid or Glycolic Acid can hurt your skin by tearing or burning the top layer of the skin and worsening color issues. Venus is free from AHA. It is an all-natural treatment.
Venue cream contains vegetable extracts that aid in skin whitening and depigmentation. It is made with compounds that inhibits tyrosine activity, which prevents melanin formation.
Venus is a simple combination of fundamental ingredients. This lotion moisturizes your skin naturally, making it look attractive and smooth. It nourishes your skin requires on a regular basis.
Because our skin can become dry and damaged as we go about our daily lives, it is important to use a good cream to rehydrate it. We require sun protection, which can be achieved with Venus.
Moisturizers help to keep your skin healthy by restoring and trapping water in your skin. Body lotion should be spread all over the body, from the top of our heads to the tips of our very toes.
While some people would prefer to be using body moisturizing cream, others prefer to use body lotion, which adds glitter and shine to the skin. Venus is a decent skin whitening lotion.
Venus toning cream fades dark spots, scars, acne marks and other skin problems on your face and body. This cream lightens your skin tone without causing any damage to your skin.
I highly recommend this venus cream for all skin types and colors. It is a dependable body cream that gradually lightens your skin and provides refreshment for your body throughout the day.
You can also try nivea natural fairness, vaseline lotion or palmers cocoa butter as an alternative.
Venus Lotion Ingredients:
Mineral Oil, Glyceryl Stearate, Glycerine, Stearic Acid, Nicotinamide, Triethanolamine, Propylene Glycol, Iodopropynyl Butylcarbamate, Carbomer, Diazolidinyl Urea, Disodium EDTA and Fragrance.
Venus Cream Side Effects:
It does not have any side effects.
Is Venus Lotion a Bleaching Cream?
No, it is not a bleaching cream.
Does Venus Cream Contain Hydroquinone?
No, it doesn't contain hydroquinone.
How Good Is Venus Lotion:
It is a really good cream that would clear your skin and make your complexion very beautiful.
How To Use Venus Cream:
Pump out some amount of the lotion on your palm and gently massage it all over your body until it is all completely absorbed into your skin.
Venus Cream Price In Nigeria:
It cost N1100 in markets and cosmetics shops.
Where To Buy Venus Lotion:
You can buy the original cream online from trusted vendors either on Jumia or on Konga.
Watch & Subscribe To Our YouTube Channel: