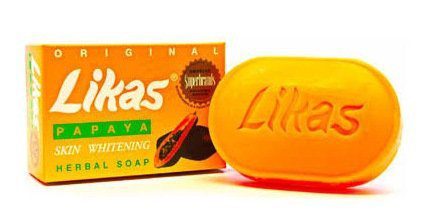 Likas Papaya Whitening Soap is an organic herbal soap that works wonders in taking care of your skin. It will make your skin clear, lighter and very beautiful within a short period of time.
It is one of the most effective whitening and toning soap. It gently exfoliates the skin to reveal newer cells and has many restorative properties that softens and smoothens skin.
It breaks the bond that holds dead skin cells together and reveal the healthy and moist skin underneath through its inherent capability of deep exfoliation. It also lightens the skin tone.
I have tried out different brands of soaps. I use them for various purposes such as exfoliating or lightening to see which one best suit my skin. I have used a lot of bath soaps and can definitely guide you on what soap to buy that really works.
I have used likas papaya whitening soap on my face and body and all I can say is that it works wonders. I have acne prone skin which makes me breakout alot. Likas cleared my pimples and left no bumps on my face. It lightened my skin.
It also cleared my freckles and kept acne away. Even the dark spots from my previous breakouts suddenly disappeared, leaving me with a lighter, brighter, luminous and flawlessly beautiful skin.
I was reading some reviews online about likas papaya soap and I think the negative comments come from people who unknowingly bought the fake because there's no downside to this soap.
The box for the original likas papaya whitening soap has hologram dots and a gold Superbrands label on it. It has a clear hologram of its logo and it is well packaged. It is bright orange in colour and looks much more like its packaging.
The soap also has a seal on the back, and the packaging has holographic lines and seals. This soap creates a very lathering foam which makes the product very easy to use on the whole body.
I highly recommend likas papaya whitening soap for exfoliating the skin, getting rid of all pimples, clearing of dark spots and acne scars and also lightening and brightening the skin complexion.
You can also use silka papaya soap, rdl papaya soap or kojie san lightening soap as alternative.
Likas Papaya Whitening Soap Ingredients:
Papaya Enzyme, Sodium Palm Kernelate, Sodium Cocoyl, Sodium Stearate, Sodium Tallowate, Sodium Laureth, Sodium Chloride, Sodium Isethionate, Stearic Acid, Coconut Acid, Cocamidopropyl Beatine, Titanium Dioxide, Trisodium, EDTA, FD&C Red #40, FD&C Yellow 6, Fragrance and Water.
Likas Soap Side Effects:
No, it doesn't have any side effects.
Likas Soap Benefits:
1: It eliminates acne
2: It clears pimples
3: It clears dark spots
4: It lightens the skin
5: It brightens the skin
6: It evens the skin tone
7: It exfoliates the skin
8: It repairs scarred tissues
Is Likas Papaya Soap Good For Face?
Yes, it is good for the face.
Does Likas Papaya Soap Contain Mercury?
No, it doesn't contain mercury.
Does Likas Papaya Soap Contain Hydroquinone?
No, it doesn't contain hydroquinone.
Does Likas Papaya Soap Lighten Skin?
Yes, it lightens the skin complexion.
How Good Is Likas Soap:
It is a good soap that will get rid of your skin problems and also lighten your complexion.
How To Use Likas Soap:
Rub the soap with water on your palm to form bubbles and apply on wet face. Massage the lather gently and rinse off. Clean your face with a towel and apply some moisturizer afterwards.
How Much Is Likas Soap In Nigeria:
It cost N1000 in markets and cosmetics shops.
Where To Buy Likas Soap:
You can buy the original soap online from trusted vendors either on Jumia or on Konga.
Watch & Subscribe To Our YouTube Channel: