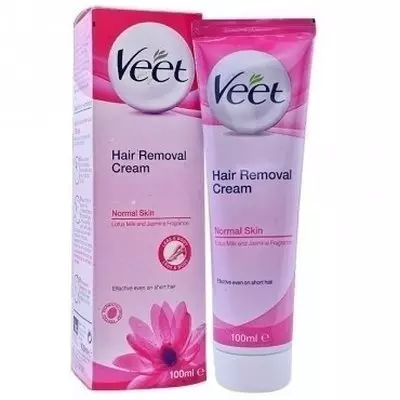 Veet Gold Hair Removal Cream is a lotion that provides a quick and pain free way to get rid of unwanted hair easily. It is designed for shaving because the process is faster and less messy.
Not only is the cream easy to use, but it is also reasonably priced. In contrast to a razor, which just removes hair from the surface, the cream dissolves the hair, allowing the skin to remain smooth for an extended period of time and also preventing you from getting a cut after shaving.
There's this guy I know that make use of shaving sticks when barbing the hairs on his beard and chest. He complained of having ingrown hairs, razor bumps and some deep cuts after shaving.
I recommended this cream to him, which he started making use of. He was impressed at the outcome of using the cream.This implies that the cream is for both genders, male and female.
The guy's girlfriend actually got me a nice gift to thank me because according to her, those big bumps he usually has on his jaw and neck after shaving do turn her off from kissing him deeply.
I highly recommend this veet gold hair removal cream to everyone especially those that usually have rashes after shaving. This lotion will gently remove all your unwanted hair, leaving your skin smoother without ingrown hairs or razor bumps.
You can also try shenic perfect legs serum, bio oil or skin free milk serum as an alternative.
Veet Gold Hair Removal Ingredients:
Cetearyl  Alcohol, Aqua, Perfume, Glycerin, Ceteareth-20, Talc, Paraffinum  Liquidum, Calcium Hydroxide, Sodium Gluconate, Sativus Fruit Extract and Potassium Thioglycolate.
Veet Gold Hair Removal Side Effects:
It doesn't have any side effects.
Veet Gold Hair Removal Benefits:
1: It leaves your skin smooth.
2: It is easy to use and it takes 3–6 minutes.
3: It effectively eliminates hair without cutting.
4: It leaves your skin well hydrated.
5: It provides a flawless finish, making it ideal for any area of your body.
Is Veet Gold Hair Removal a Bleaching Cream?
No, it is not a bleaching cream.
Does Veet Gold Hair Removal Cream Contain Hydroquinone?
No, it doesn't contain hydroquinone
How Good Is Veet Gold Hair Removal:
It is a very good cream that leaves your skin flawless and smooth without any rashes or cut.
How To Use Veet Gold Hair Removal:
Spread the cream evenly over the hair to completely cover it using the curved portion of the spatula that came with it.
Three minutes after applying the cream, use the spatula to carefully remove a tiny patch off your skin as a test.
Use the wider or narrower end of the spatula, depending on the body part, to remove the remaining hair if it comes off easily.
If your hair is particularly resistant, you can leave the cream on for a total of six minutes, but do not leave it on for anything longer than six minutes.
To get rid of the cream, gently wash your skin with soap and water. Then dry your skin with a clean towel or air dry.
Veet Gold Hair Removal Cream Price In Nigeria:
It cost N2000 in markets and cosmetics shops.
Where To Buy Veet Gold Hair Removal Cream:
You can buy the original cream from trusted vendors online either on Jumia or on Konga.
Watch & Subscribe To Our YouTube Channel: