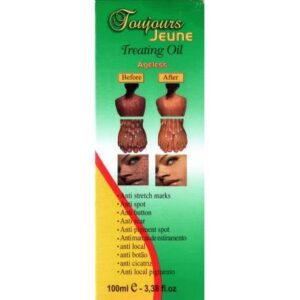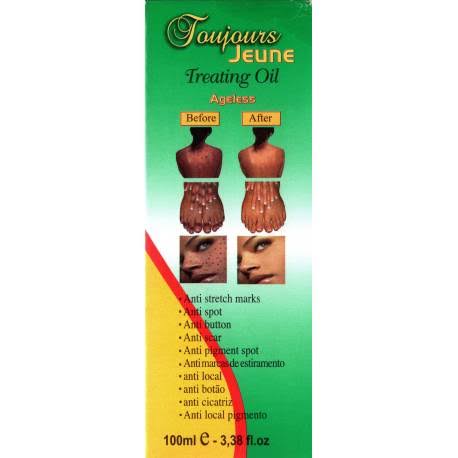 Toujours Jeune Treating Oil is a skin serum loaded with vitamins ingredients. It is healthy and swiftly cleanses the body, gradually getting rid of stretch marks, dark spots, and pimples.
This treating oil was made to successfully combats premature skin aging. Its recipe was also created to hydrate, brighten, and restore the skin's natural smoothness and skin firmness.
It improves the appearance of the skin tone, eradicates dark spots, dark knuckles, elbows, knees and feet. It lightens and whitens your skin complexion, making it look younger and vibrant.
It also smoothens your skin and gives it a very natural glow up. It hydrates and moisturizes your skin. This oil can be applied directly to your face and body and can as well be mixed into your face cream and body lotion or other serums.
It is suitable for both male and female and it is a clarifying oil that gives you a glowing skin tone that is flawless and even tone. With the use of this oil, you would maintain a fresh glowing skin.
This oil has proven its worth because of the positive results it has shown on its users. A former neighbor of mine has been using the oil for quite a while now and it has not shown any side effects on him which is very amazing.
Before he came across this wonderful oil, he actually suffered from pimples. He is a guy that never plays with his skin. He is someone that hardly get pimples, black spots, eczema, dark spots, etc. But all of a sudden, he had pimples.
He was very worried so he started buying products that will help cure his pimples. One evening, he came to my place as usual to do long throat. He is actually a foodie. I was actually preparing egusi and eba when he came.
He sat on my small student bed and was going through his phone. Just few minutes later, I came out of the kitchen with food. We sat and ate together and at the same time, making unnecessary jokes. I suddenly mentioned his rough pimples face which has made him ugly.
He smiled and told me that in no time, he'll get the perfect products he's looking for. He said all the products he bought had no effects and he's very worried because he is suddenly loosing his fine boy confidence which is very bad for him.
I smiled and told him I'll make the perfect skincare routine recommendation for him. I took my cell phone and visited a reviews site. I suddenly came across this toujours jeune oil and I asked him to give it a try which he agreed.
He promised to buy it when he goes out. The next day, he bought the treating oil which he quickly mixed with his lotion. In less than seven days, his pimples completely vanished without leaving dark spots behind. He was very happy.
Before moving out of our compound, he gave me a special gift just to show his appreciation. He said I took very good care of him and would have loved to make me his girlfriend if only I was willing to leave my boyfriend with full pride.
We both laughed over it and I also thank him for being a friend and for trusting me with his skincare routine. He said he'll never forget toujours jeune treating oil because the oil really helped him regain his fine boy confidence.
I highly recommend toujours jeune treating oil to anyone who wants to get rid of dark knuckles, pimples, etc. This oil is good for face and body and is suitable for all skin types and colors.
You can also try vaseline cocoa oil, palmer's cocoa oil or lemon clear oil as an alternative.
Toujours Jeune Treating Oil Ingredients:
Snail Slime, Citric Acid, Petrolatum, Isopropyl Myristate, Aspergillus Ferment, Aqua, Stearic Acid, Mineral Oil, Cetyl Alcohol, Glycerin, Propylene Glycol, Methylparaben, Lactic Acid, Propyl Paraben, Tocopheryl Acetate, Sodium Sulfite, Allantoin, and Fragrance.
Toujours Jeune Treating Oil Side Effects:
It doesn't have any side effects.
Toujours Jeune Treating Oil Benefits:
1: It clears dark spots
2: It clears discoloration
3: It helps brighten the skin
4: It eliminates stretch marks
Is Toujours Jeune Treating Oil a Bleaching Serum?
No, it is not a bleaching oil.
Does Toujours Jeune Treating Oil Contain Hydroquinone?
No, it doesn't contain hydroquinone.
How Good Is Toujours Jeune Treating Oil:
It is a very good serum that gets rid of skin problems and makes your skin very beautiful.
How To Use Toujours Jeune Treating Oil:
You can massage the oil gently into your skin until fully absorbed or mix it into your lotion.
Toujours Jeune Treating Oil Price In Nigeria:
It cost ₦800 in markets and cosmetics shops.
Where To Buy Toujours Jeune Treating Oil:
You can buy the original serum online from trusted vendors either on Jumia or on Konga.