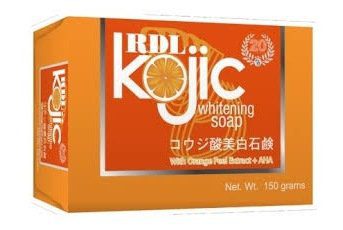 RDL Kojic Whitening Soap is a very potent soap containing kojic acid, AHA and also orange peel extract to deeply exfoliate and rejuvenate your skin to reveal a fresh, youthful and healthy skin.
It has a rich lather and nice fragrance. This soap is enriched with lightening therapy that removes dirts, impurities and excess oil from the skin. It also leaves your body refreshed and nourished.
RDL soap eliminates rough skin with ease and removes dead cells to reveal a healthy, smooth, soft and youthful glowing skin underneath. It makes your skin fairer, clearer and even tone.
It is specially designed for discoloration problems, this skin lightening soap targets pigmentation spots, patches and wrinkles caused by aging, sun damage and pregnancy.
This soap is quite potent and very effective in lightening the skin, clearing blemishes, freckles and dark spots. It smoothens the skin and also leaves your body feeling refreshed after bath.
My experience using rdl kojic whitening soap is quite fascinating because my skin started peeling within two weeks of using it. My palms, legs, arms and feet all peeled. It was intriguing for me because my whole body felt renewed.
After the peeling, my body became smooth, soft and flawless. It was a refreshing experience for me and I absolutely liked it. This soap is perfect for exfoliating and rejuvenating the entire body.
Rdl kojic soap melts easily, so I advice you to keep it in a dry place after use. You can also divide the soap into two parts and keep one aside until you finish the first half to make it last.
You can also try gluta-c whitening soap, two tigers soap or  mimi white soap as alternative.
RDL Kojic Soap Ingredients:
Coconut Oil, Sodium Hydroxide, Kojic Acid, Orange Peel Extract, Butylene Glycol, Glycolic Acid, Citrus Acid, Malic Acid, Salicylic Acid, Lactic Acid, Butylated Hydroxytoluene, Water, CI 45370 and Fragrance.
RDL Kojic Soap Side Effects:
It irritate sensitive skin of the face.
How Good Is RDL Kojic Soap:
It is a really good bath soap that will lighten, brighten and even out your skin complexion.
How To Use RDL Kojic Whitening Soap:
Rub the soap with water on your palm to form bubbles and apply on wet face. Massage the lather gently and rinse off. Clean your face with a towel and apply some moisturizer afterwards.
RDL Kojic Whitening Soap Price In Nigeria:
It cost N1000 in markets and cosmetics shops.
Where To Buy RDL Soap:
You can buy the original soap online from trusted vendors either on Jumia or on Konga.
Watch & Subscribe To Our YouTube Channel: