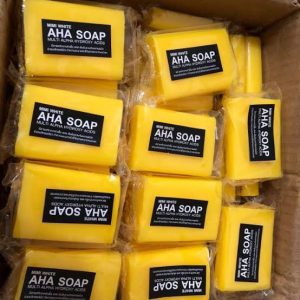 Mimi White AHA Soap is a skin lightening and whitening soap that rejuvenate and refreshes the body. This soap has a lovely scent that last long and makes the body feel cool after bath.
It is specially made with a blend of fruits extracts and other effective ingredients to revitalize the skin and thoroughly clean the body. It gently scrubs and evenly whitens the skin.
This soap deeply cleanses and removes dirts and impurities from the skin pores. It is specially designed to moisturize and make the skin smooth, soft and supple. It clears blemishes, freckles and also discoloration from the body.
It breaks the bond that holds dead skin cells together and reveal the healthy and moist skin underneath through its inherent capability of deep exfoliation. It also brightens the skin.
This soap is formulated to evenly whiten your skin while increasing moisture, resilience and firmness. As well as reducing oiliness, pores, pimples, scars and premature signs of aging.
It is specially designed for discoloration problems, this skin lightening soap targets pigmentation spots, patches and wrinkles caused by aging, sun damage and pregnancy.
This soap is quite potent and very effective in lightening the skin, clearing blemishes, freckles and dark spots. It smoothens the skin and also leaves your body feeling refreshed after bath.
I highly recommend mimi white aha soap to anyone who wants to lighten and brighten up their skin complexion. It gets rid of pimples, blemishes, freckles, dark spots, and acne scars.
You can also try nano extra white soap, fair and white soap or veet gold soap as an alternative.
Mimi White AHA Soap Ingredients:
Sodium Laureth Sulfate, Aqua (Water), Glycerin, Propylene Glycol, Sodium Chloride, Panthenyl Hydroxypropyl Steardimonium Chloride, Phenoxyethanol, Ethylhexylglycerin, Citrus Grandis (Grapefruit) Fruit Extract, Tilia Cordata Flower Extract, Panax Ginseng Root Extract, Benzyl Alcohol, Citronellol, Geraniol, Hexyl Cinnamal, Limonene, Linalool, Yellow 5, Yellow 6, Red 40 and Fragrance.
Mimi White Side Effects:
This soap doesn't have any side effects.
Mimi White Soap Benefits:
1: Whitens the skin
2: Brightens the skin
3: Exfoliates the skin
4: Tightens the skin pores
5: Has a long-lasting fragrance
How Good Is Mimi White Soap:
It is a good soap that will get rid of your skin problems and also lighten your complexion.
How To Use Mimi White AHA Soap:
Rub the soap with water on your palm to form bubbles and apply on wet face. Massage the lather gently and rinse off. Clean your face with a towel and apply some moisturizer afterwards.
Mimi White AHA Soap Price In Nigeria:
It cost N1700 in markets and cosmetics shops.
Where To Buy AHA Soap:
You can buy the original soap online from trusted vendors either on jumia or on konga.
Watch & Subscribe To Our YouTube Channel: