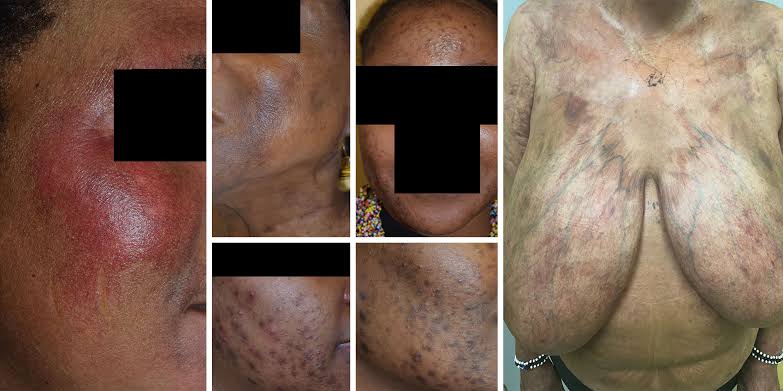 They are other names of hydroquinone which is also known as HQ for short. It is a controversial ingredient used in the making of skin lightening, whitening and bleaching product that work fast.
It is a very strong chemical that can be used to solve skin problems like hyperpigmentation if used with caution. They are different derivatives and other names of hydroquinone that is being used by manufacturers to confuse consumers.
They do this to trick people into buying their skincare products without knowing what it is truly made of because the masses are already scared of hydroquinone knowing the damages.
The FDA approves 2% of hydroquinone for products, as long as the manufacturers states on the packaging that the product should only be used for just 3 months and nothing more.
Nigeria is filled with all kinds of skin bleaching products from countries like Ghana, Phillipines, Cote d'Voire etc because of the high demand for it and most of them have false ingredients list.
Since our government regulating bodies do not sanction these products; it is the responsibility of every one of us to look out for these skincare products with questionable ingredients in them.
20 other names of hydroquinone that is used to disguise it since they are unknown derivatives.
1: Aida
2: Diak 5
3: Arbutin
4: Benzene
5: Tequinol
6: Phiaquin
7: UN 2662
8: Benzoquinol
9: NCI-C55834
10: USAF EK-356
11: Solaquin forte
12: Eldoquin forte
13: Derma-Blanch
14: p-Benzenediol
15: 1.4-Benzenediol
16: 4.Hydroxyphenol
17: Benzohydroquinone
18: Dihydroxybenzene
19: 1.4-Dihydroxybenzol
20: 1.4-Dihydroxybenzen
Let's be mindful of what we apply on our skin in the name of looking good. Recent studies have shown that bleaching is the leading cause of kidney failure and skin cancer in most women.
Be very careful when buying skincare products, always go through the ingredients list before you purchase it to see if it contains any of the other names of hydroquinone that is listed above.
Try and search for reviews online before you buy skincare products because some manufacturers purposely write false ingredients to mislead people into buying their goods but with feedback from other people who have already used it, you can save yourself money, time and also regrets.
You should also check out;
8 ways to detect hydroquinone
20 side effects of hydroquinone
How to know a bleaching cream
Where To Buy Original Creams:
You can buy original products from trusted vendors online either on Jumia or on Konga.
Watch & Subscribe To Our YouTube Channel: