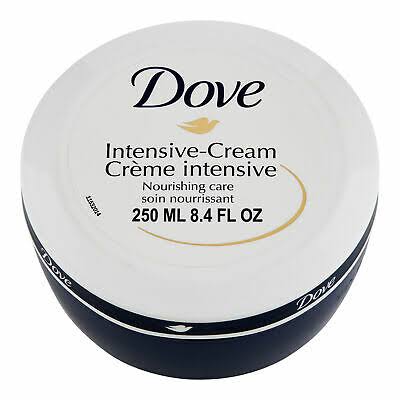 Dove Intensive Cream is a good lotion for rough, flaky and dry skin. It keeps your skin moisturized for up to 48 hours without feeling oily and it also gets rid of patches and dead cells on your skin.
Long-lasting hydration is provided by this ultra-rich formula. This dual moisturizing cream also combines natural skin nutrients and essential oils to gently nourish deeper layers of your skin.
Dove intensive cream restores smoothness to extra dry skin. It is non-greasy and contains skin-nourishing antioxidants and ingredients that prevents moisture loss on the surface of skin.
With a blend of natural skin nourishment, dove intensive cream is the perfect moisturizer for dry skin. This hydrating formula absorbs quickly and leaves dry skin feeling silky smooth and radiant.
People with dry skin should incorporate dove lotion into their daily skincare routine and give special attention to their heels, knees, knuckles elbows, and other dry skin areas of their body.
Dove intensive lotion nourishes skin profoundly while also offering all of the good conditioning advantages of a rich cream without weight. It is a fragrant lotion that will nurture your skin well.
When it comes to nourishing dry skin, the dove intensive cream provides deep nourishment with a light touch. It is as light as air and moisturizes your skin while maintaining and conditioning it.
In conclusion, dove intensive cream is a cream that gives your body the treatment it needs to be healthy. It makes your skin clearer, moisturized, flawless, luminous, spotless and very beautiful.
You can also try vaseline intensive cream or palmers cocoa butter cream as an alternative.
Dove Intensive Cream Ingredients:
Water, Petrolatum, Mineral Oil, Glycerin, Glycol Stearate, Palmitic Acid, Stearic Acid, Glyceryl Stearate, Triethanolamine, Paraffin, Cetyl Alcohol, Microcrystalline Wax, Phenoxyethanol, Magnesium Aluminum Silicate, Methylparaben, Carbomer, Propylparaben, Stearamide AMP, Disodium EDTA, BHT, Tocopherol, Alpha-Isomethyl Ionone and Fragrance.
Dove Lotion Side Effects:
It does not have any side effects.
Is Dove Lotion a Bleaching Cream?
No, it is not a bleaching cream.
Does Dove Cream Contain Hydroquinone?
No, it doesn't contain hydroquinone.
How Good Is Dove Lotion:
It is a really good cream that will ensure your skin complexion is even tone and beautiful.
How To Use Dove Lotion:
Pump out some amount of the lotion on your palm and gently massage it all over your body until it is all completely absorbed into your skin.
Dove Lotion Price in Nigeria:
It cost N1750 in markets and cosmetics shops.
Where To Buy Dove Lotion:
You can buy the original cream online from trusted vendors either on Jumia or on Konga.
Watch & Subscribe To Our YouTube Channel: