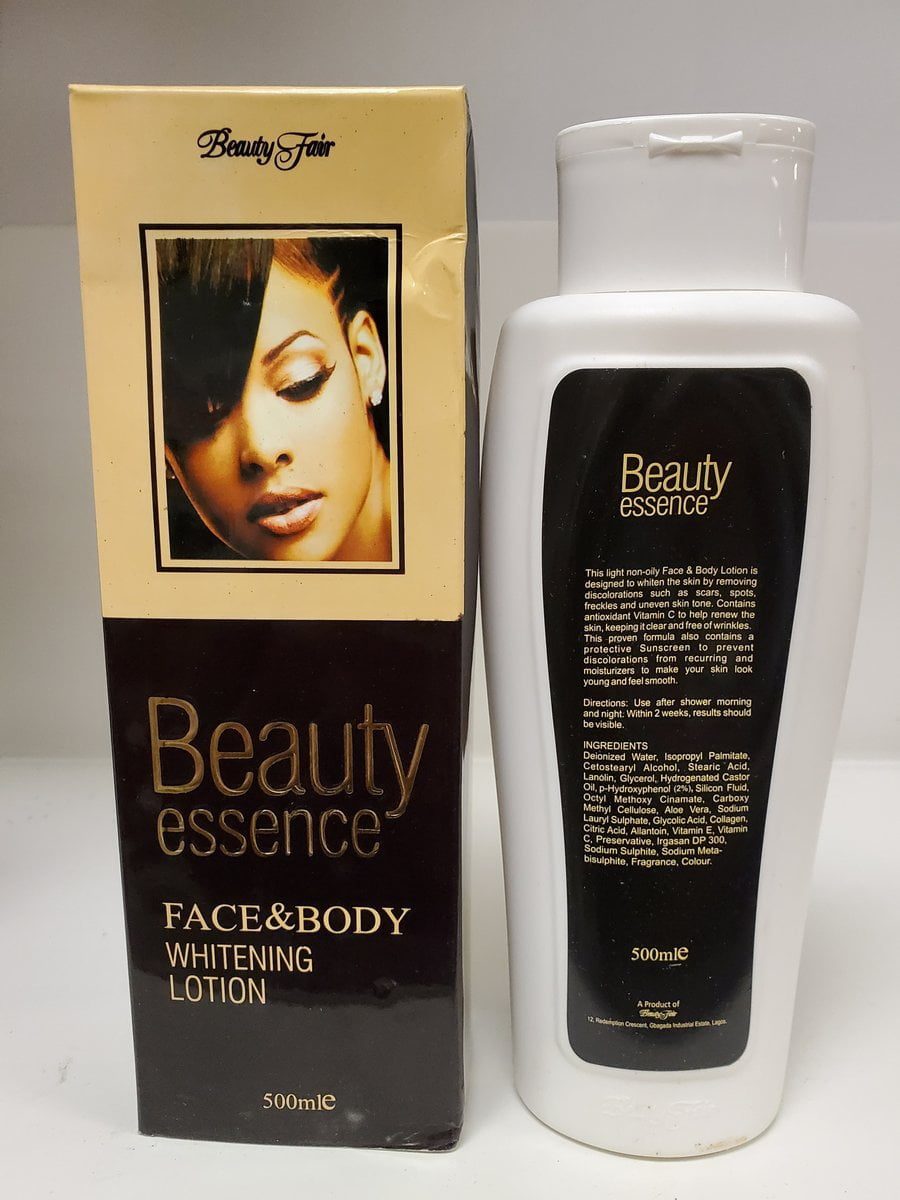 Beauty Essence Cream is a soothing non-oily face and body lotion that is designed to lighten, brighten and whiten your skin by removing any form of discolorations and scars on your body.
This cream clears every dark spots, freckles, melasma, blackheads and also brightens dull skin. It lightens stubborn areas of the body like your underarms, knees, knuckles and elbows.
It contains a stable derivative that softens the skin. This cream is a moisturizing treatment that can be used to smoothen and improve your skin texture. It enhances the appearance of your skin.
This lotion also replenishes and refreshes your skin with intense moisture while nourishing and moisturising your skin. It also enhances the skin complexion and protects your body intensively.
It is a mild formulation that contains sunscreen to protect you against the sun. It renews the skin and prevents discoloration from reappearing. It is a skincare that is non-greasy and very gentle.
The scent is fresh and the consistency is watery. It easily sinks into the skin and doesn't leave any oily residue nor does it clog the pores. It dries up fairly quickly and doesn't feel sticky afterwards. It also layers well with serums and tube creams.
I highly recommend beauty essence lotion to anyone who wants to lighten and brighten up their complexion. This cream clears up your skin and makes it even tone, radiant and so beautiful.
You can also try infini clear body lotion, makari lotion or make me white lotion as an alternative.
Beauty Essence Lotion Ingredients:
Deionized Water, Stearic Acid, Glycolic Acid, Citric Acid, Collagen, Allantoin, Isopropyl Palmitate, Cetyl Alcohol, Vitamin E, Vitamin C, Lanolin, Glycerol, Hydrogenated Castor Oil, p-hydroxyphenol (2%), Silicon Fluid, Octyl Methoxy Cinamate, Carboxy Methyl Cellulose, Aloe Vera, Sodium Lauryl Sulfate, Sodium Sulphite, Sodium Metabisulfite, Preservative, Irgasan DP 300, Colour and Fragrance.
Beauty Essence Lotion Side Effects:
It doesn't have any side effects.
Is Beauty Essence a Bleaching Cream?
No, it is not a bleaching cream.
Does Beauty Essence Contain Hydroquinone?
Yes, it contains hydroquinone.
How Good Is Beauty Essence Cream:
It is a really good lotion that will even out your skin and make your complexion very beautiful.
How To Use Beauty Essence Lotion:
Pump out some amount of the lotion on your palm and gently massage it all over your body until it is all completely absorbed into your skin.
Beauty Essence Cream Price In Nigeria:
It cost N2500 in markets and cosmetics shops.
Where To Buy Beauty Essence Cream:
You can buy the original cream online from trusted vendors either on Jumia or on Konga.
Watch & Subscribe To Our YouTube Channel: