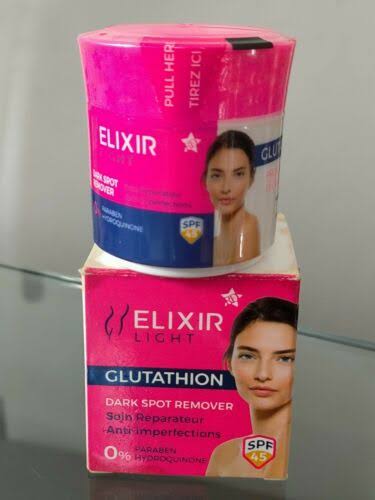 Elixir Light Face Cream is a good concentrated facial moisturizer specifically developed to control hyperpigmentation on the face. It is also suitable for any skin type without side effects.
This moisturizer nourishes, unifies, clarifies, moisturises and hydrates your skin tone. It contains rich and potent ingredients that helps the skin retain its elasticity and durability.
Elixir light cream is made in Lome, Togo by Rodis Togo cosmetics company. A leading brand when it comes to popular and effective skincare products that really works for all skin.
When a fair person starts using elixir face cream, it would take time to see any changes on their face. But it would lighten a dark person or chocolate person within a week or even less.
So what I am trying to say in essence is that; Elixir face cream is a bleaching cream for dark skin people but a maintenance cream for fair people who just wants to brighten their skin.
So if you are a light skin person who wants to get some shades lighter, you would have to be patient to see the result because it works faster in lightening dark skin people than fair people.
I highly recommend Elixir light glutathione face cream to fair people who are suffering from discoloration. It will unify your face complexion, tone and keep it hydrated throughout the day.
But I wouldn't recommend it for dark skin people because it gives them bleaching side effects like fanta and coke complexion, dark knuckles and eczema like skin patches. So use it with caution.
You can also try jra face cream, veet gold face cream or white secret face cream as alternative.
Elixir Light Facial Cream Ingredients:
Demineralized Water, Paraffinium Liquidum, Glutathione, Stearic Acid, Cethyl & Stearylic Alcohol, Glycerin, Propylene Glycol, Sodium Metabisulfite, Cocos Nucifera Oil, Argan Oil, Carrot Oil, Vitamin E, Rose Hip Oil, Sodium Lactate, Lactic Acid, AHA, Ascorbic Acid, Butyrospermum Parkii Butter, Theobroma Cacoa Seed Butter, Citric Acid, UV protection, Fragrance.
Elixir Light Face Cream Side Effects:
• It gives some people pimples
Is Elixir Light Face Cream a Bleaching Cream?
No, it is not a bleaching cream.
Does Elixir Light Facial Cream Contain Hydroquinone?
No, it doesn't contain hydroquinone.
How Good Is Elixir Light Face Cream:
It is a really good cream that would clear your skin and make your complexion very beautiful.
How To Use Elixir Facial Cream:
Scoop some of the cream and gently massage it into your skin until it is all completely absorbed.
Elixir Light Face Cream Price In Nigeria:
It cost N700 in markets and cosmetics shops.
Where To Buy Elixir Facial Cream:
You can buy the original cream online from trusted vendors either on Jumia or on Konga.
Watch & Subscribe To Our YouTube Channel: