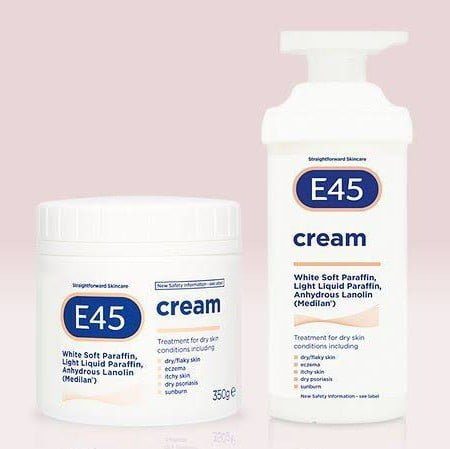 E45 Lotion is a dermatologically tested cream specially designed to treat skin conditions. It has been clinically proven to soothe calloused, drying, chapped, rough, itching and flaking skin.
In this review, we will discuss every detail that any person who is interested in purchasing the E45 cream should know, from its pros and cons to its usage, ingredients and also side effects.
The E45 body cream is fragrant-free and perfect for those who love to wear perfume throughout the day without a clash of fragrances. It keeps the skin moisturized, nourished and hydrated.
This cream heals eczema, sunburns, dermatitis, detergent hands, and clears acne rosacea. It has been tested and trusted and the company has been in existence for more than five decades.
This product contains white-soft paraffin, light liquid paraffin, and anhydrous lanolin. These ingredients provide a layer of oil on your skin surface to avert water escaping from the skin.
This product increases the absorption of other medicines applied to the skin. However, it should be applied 30 minutes before or after applying other medicated lotions, ointments, or creams.
It is a non-greasy emollient that quickly absorbs into your skin, leaving it smoothen and relieved. The E45 lotion is white in color, perfume free, clinically proven and dermatologically tested.
E45 moisturising lotion is suitable for children, teenagers, adults, pregnant women, and breast feeding mothers. When applied to the breast, it should be washed off before breastfeeding.
I highly recommend E45 soap and the cream to anyone who wants to get rid of skin conditions, people with dry and sensitive skin and also to those who are looking for a moisturizing lotion.
You can also try dove intensive cream, body treat lotion, or otentika cream as alternative.
E45 Cream Ingredients:
White Soft Paraffin, Light Liquid Paraffin, Citric Acid, Anhydrous Lanolin, Glyceryl Monostearate, Cetyl Alcohol, Isopropyl Palmitate, Paraffinium Liquidum, Glyceryl Stearate, Methylparaben, Carbomer, Propylparaben, Sodium Cetostearyl Sulphate, Carbomer, Methyl Hydroxybenzoate, Propyl Hydroxybenzoate, Sodium Hydroxide, Monohydrate and Purified Water.
E45 Cream Side Effects:
It doesn't have any side effects.
Is E45 Cream Good For Face?
Yes, it is good for the face.
Is E45 Cream a Bleaching Cream?
No, it is not a bleaching cream.
Does E45 Cream Contain Hydroquinone?
No, it doesn't contain hydroquinone.
How Good Is E45 Lotion:
It is a really good lotion that will get rid of your skin problems and also moisturises your skin.
How To Use E45 Lotion:
Apply it all over your body, hand, and face. It is best for sensitive and dry skin. Use it every day after bathing. It should be applied to problem areas of the skin two to three times everyday.
E45 Cream Price In Nigeria:
It cost N4000 in markets and cosmetics shops.
Where To Buy E45 Lotion:
You can buy the original cream online from trusted vendors either on Jumia or on Konga.
Watch & Subscribe To Our YouTube Channel: