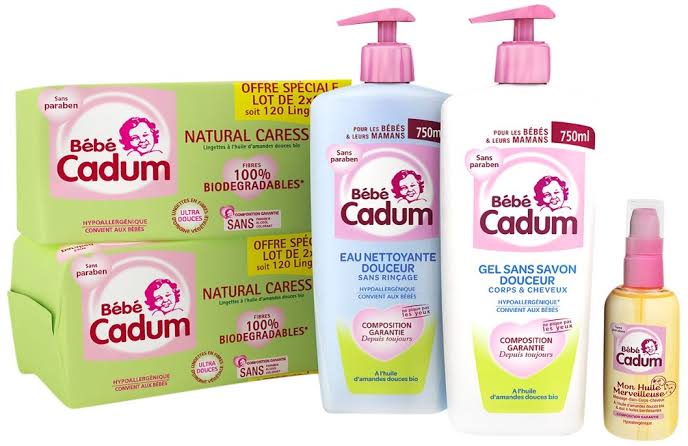 Cadum Body Lotion is an hypoallergenic and clinically tested cream made in France. It doesn't contain alcohol, colourants and parabens. It is used to treat acne, eczema and sensitive skin.
It is enriched with intense nourishing jelly and incredibly non-sticky feel of talcum cream that keeps your skin hydrated. It makes your skin velvety and envelopes it in a veil of refreshment.
This cream is a recommended medicine for dry skin conditions. It is designed to treat eczema prone and dry skin by moisturizing and forming a protective film to soothe and hydrate the skin.
It takes a while to absorb into the skin but does not leave a slime coat on the body. This cream starts soothing the skin immediately it is applied and significantly reduces your itching instantly.
This cream has been dermatologist tested for visibly healthier skin and it is suitable for both adults and children. It is mild as it doesn't sting and provides a barrier against chapping skin.
This lotion is a very rich moisturizing body milk cream designed for children and teenagers to combat excessive dryness, flakiness, and also rough skin to leave their skin feeling rejuvenated.
This cream promotes healthy new skin cells for developing children, teens and the entire family. Bebe cadum cream is an amazing body milk loaded with key components. It is gentle on skin.
It also renews, refreshes and reveals a healthier, brighter and radiant skin complexion. It is a very hydrating essence that leaves skin feeling soft, so pleasant, and silky smooth after application.
This cadum cream soothes and moisturizes skin while also helping to heal diaper rash. It relieves itching caused by dry skin, cradle cap, flaky and eczema. It locks in moisture and heals the skin.
I highly recommend this bebe cadum body lotion to anyone who is suffering from extremely dry and sensitive skin. It relieves inflammation and clears irritations on the skin within a short time.
You can also try kidz and more lotion, olaybact lotion or veet gold baby lotion as an alternaltive.
Cadum Body Lotion Ingredients:
Water, Royal Jelly, Oxidized Starch Acetate, Talc, Allantoin, Paraffinum Liquidum, Ammonium Polyacryloydimethyl, Taurate Caprylyl Glycol, Disodium EDTA, Butyrospermum, Parki Butter, Glycerin, Mineral Oil, Shea Butter, Salicylic Acid, Citric Acid, Stearyl Alcohol, Cetyl Alcohol, Butyl Alcohol, Dimethicone, Petrolatum, Calcium Hydroxide, Methyglucose Osterate, Tocopheryl Acetate, Xantam Gum and Fragrance.
Cadum Lotion Side Effects:
It does not have any side effects.
Cadum Cream Uses:
1: It is used to clear acne
2: It is used to clear rashes
3: It is used to clear eczema
4: It is used to moisturise the skin
5: It is used to relieve inflammation
How Good Is Cadum Lotion:
It is a good cream that gets rid of skin problems and make your body healthy within a short time.
How To Use Cadum Body Lotion:
Pump out some amount of the lotion on your palm and gently massage it all over your body until it is all completely absorbed into your skin.
Cadum Lotion Price In Nigeria:
It cost N2000 in markets and cosmetics shops.
Where To Buy Cadum Body Lotion:
You can buy the original cream online from trusted vendors either on Jumia or on Konga.
Watch & Subscribe To Our YouTube Channel: