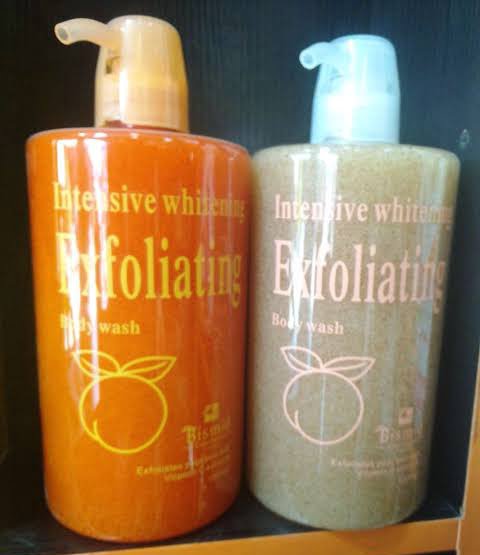 Bismid Shower Gel is a brightening and firming body wash that deep cleanses and exfoliates your skin and reduces the effect of stress on your body. It moisturises and soothes dry skin.
This lightening shower gel is a wonderful liquid soap infused with various blend of revitalizing fruit extracts and antioxidants that is specifically designed to pamper and take good of your skin.
It is specially formulated to rejuvenate, exfoliate, repair and refresh your skin for a clear, youthful looking, flawless, luminous, lighter and brighter skin complexion that is glowing and beautiful.
This shower gel eliminates dull skin and refines your skin texture. It also restores damaged skin and moisturises dry skin and enhances natural radiance while reducing the feeling of tightness.
Using bismid exfoliating shower gel will make your skin softer, supple, even tone and smooth. This liquid soap will instantly promote your skin by making it very radiant and youthful looking.
It removes blackheads, dark spots, blemishes, freckles, melasma and wrinkles from your body. It is enriched with various fruity extracts and antioxidants excellent at brightening the skin.
This liquid soap lathers very well, a little goes a long way and it washes your body thoroughly and gets rid of dirts, impurities, make up and excess oil ordinary soaps usually leave behind.
Bismid whitening shower gel also tightens your skin. It removes acne scars, blemishes, freckles, melasma, blackheads and wrinkles from your body. It lightens your complexion in a short time.
It contains rich conditioner, collagen, nutrients and other active components that are specially designed to clear, nourish, hydrate, preserve and also improve the general well-being of your skin.
I highly recommend bismid whitening shower gel to anyone who wants to lighten, brighten up and exfoliate their skin. It can be used on the face and body and is suitable for all skin types.
Bismid cream, bismid face cream and bismid facial cleanser are from this same company.
Bismid Shower Gel Ingredients:
Water, Citric Acid, Argan Seed Oil, Glycerin, Sodium Chloride, Sodium Coco-Sulfate, Tetra Sodium Glutamate, Moroccan, Daucus Sativa, Potassium Sorbate, Phenoxyethanol, Fragrance.
Bismid Liquid Soap Side Effects:
It doesn't have any side effects.
Bismid Shower Gel Benefits:
1: It hydrates the skin
2: It moisturizes the skin
3: It evens out the skin tone
4: It makes the skin healthy
5: It makes the skin look radiant
Does Bismid Liquid Soap Bleach?
No, it doesn't bleach the skin.
How Good Is Bismid Liquid Soap:
It is a good soap that exfoliates, lightens and brightens up your skin and makes it beautiful.
How To Use Bismid Shower Gel:
Apply some amount of the liquid soap onto wet body and gently rub with your sponge. Leave it on your skin for few minutes and then rinse off.
Bismid Shower Gel Price In Nigeria:
It cost N4500 in markets and cosmetics shops.
Where To Buy Bismid Liquid Soap:
You can buy the original body wash online from trusted vendors either on Jumia or on Konga.
Watch & Subscribe To Our YouTube Channel: