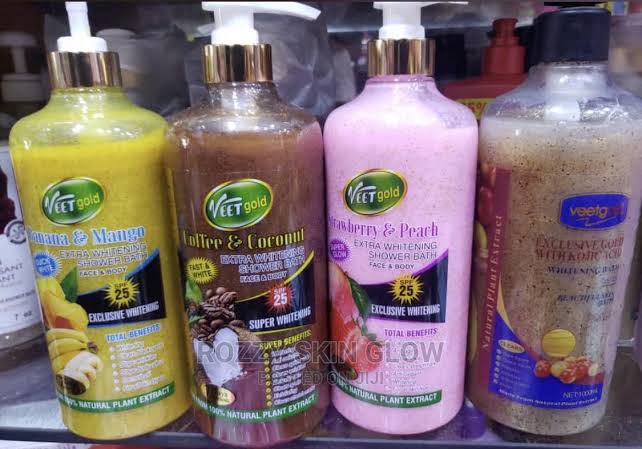 Veet Gold Shower Gel is an amazing lightening liquid soap that refreshes, nourishes, hydrates and moisturises your skin with intense organic ingredients that also soothes your entire body.
This body bath is a good skin lightening liquid soap that is concentrated with very quality and effective ingredients that boast the radiance of your skin to make your complexion beautiful.
It removes blackheads, dark spots, blemishes, freckles, melasma and wrinkles from your body. It is enriched with various fruity extracts and antioxidants excellent at brightening the skin.
This liquid soap lathers very well, a little goes a long way and it washes your body thoroughly and gets rid of dirts, impurities, make up and excess oil ordinary soaps usually leave behind.
It contains rich conditioner, collagen, nutrients and other active components that are specially designed to clear, nourish, hydrate, preserve and also improve the general well-being of your skin.
This soap protects your skin against all water loss and supports your skin protective barrier. It also makes your skin complexion to be lighter, brighter and very flawless within a short time.
It is enriched with some essential nourishing properties that makes your skin smoother and softer. It will provide you with a more healthier, clearer, luminous, glowing and beautiful skin.
This soap promotes skin renewal and turnover. It exfoliates all dead skin cells to reveal the newer skin underneath and this soap has restorative properties that softens and smoothens the skin.
I highly recommend veet gold shower gel to anyone who wants to lighten, brighten up and whiten their skin. It doesn't have that slimy feeling that is common with other shower gels.
Veet gold soap, veet gold cleanser and veet gold face cream are also from this same company.
Veet Gold Shower Gel Ingredients:
Water, Papaya Extract, Carrot Extract, Banana Extract, Orange Extract, Coconut Extract, Coffee, Sodium Laureth Sulfate, Glycerin, Cocamide DEA, Cocamidopropyl Betaine, Citric Acid, Glycol Distearate, AMA Allantoin, Vitamin B3, Vitamin C, Tetrasodium EDTA, Methylisothiazolinone, Methylchloroisothiazolinone, Sodium Ascorbyl Phosphate and Fragrance.
Veet Gold Shower Gel Side Effects:
It doesn't have any side effects.
How Good Is Veet Gold Shower Gel:
It is a good soap that exfoliates, lightens and brightens up your skin and makes it beautiful.
How To Use Veet Gold Liquid Soap:
Apply some amount of the liquid soap onto wet body and gently rub with your sponge. Leave it on your skin for few minutes and then rinse off.
Veet Gold Shower Gel Price In Nigeria:
It cost N3000 in markets and cosmetics shops.
Where To Buy Veet Gold Liquid Soap:
You can buy the original body wash online from trusted vendors either on Jumia or on Konga.
Watch & Subscribe To Our YouTube Channel: