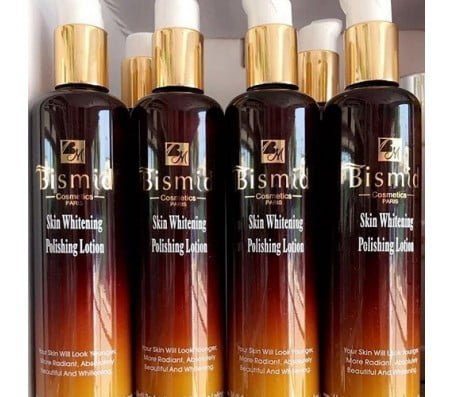 Bismid Cream is a luxurious whitening body lotion that gives you glowing and flawless skin within a short time. It instantly lightens and brightens your skin, decreasing discoloration.
Bismid has been able to establish itself as a go-to cosmetics brand. It has received rewards for its dependability. They make a variety of creams, soaps, scrubs, perfumes, and other cosmetics.
Bismid products are quite effective, which is one of reasons for their popularity. The effect of their whitening creams can be noticeable in just a few days after you start using it and the result stays.
It is a potent and quick-acting skin lightener. It lightens dark spots on your body and removes blemishes and freckles from your skin. It also works wonders on elbows, knees and knuckles.
It whitens your skin in seven days while also getting rid of discoloration caused by hormonal changes, epidermis treatments or excessive exposure to the sun. Bismid maintains your skin.
This cream is a hydrating and nourishing lotion that makes your skin softer and smoother. This milk enriched moisturizer is produced in a gentle manner to provide natural firming and whitening.
It blends milk protein with firming extracts to firm your skin and improve the skin youthful appearance. Bismid has powerful whitening ingredients that will restore uneven skin tone.
In conclusion, bismid body lotion is unarguably one of the best whitening creams as it doesn't contain harsh ingredients or chemicals. It gives you a beautiful complexion within a short time.
Bismid facial cleanser and Bismid face cream are also good products from the same company.
Bismid Cream Ingredients:
Water, Licorice Extract, Vitamin C, Betula Alba, Tilla, Sodium Lactate, Rubufructicosus, Citrus Limonum, Aspergillus and Fragrance.
Bismid Cream Side Effects:
It doesn't have any side effects.
Is Bismid a Bleaching Cream?
No, it is not a bleaching cream.
Does Bismid Cream Contain Hydroquinone?
No, it doesn't contain hydroquinone.
How Good Is Bismid Lotion:
It is a really good cream that will ensure your skin complexion is even tone and beautiful.
How To Use Bismid Lotion:
Pump out some amount of the lotion on your palm and gently massage it all over your body until it is all completely absorbed into your skin.
Bismid Cream Price In Nigeria:
It cost N6000 in markets and cosmetics shops.
Where To Buy Bismid Body Lotion:
You can buy the original cream online from trusted vendors either on Jumia or on Konga.
Watch & Subscribe To Our YouTube Channel: