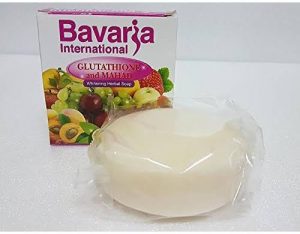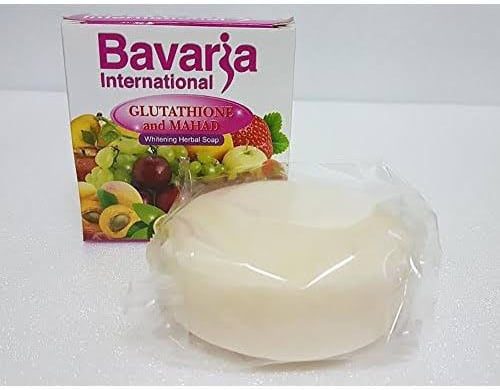 Bavaria International Soap with glutathione and mahad is a herbal soap that lightens, brightens and nourishes the skin and also makes it soft, smooth, radiant, supple and flawlessly beautiful.
This soap deep cleanses and gently exfoliates the skin to allow regeneration of new skin. It blocks excessive production of melanin, the pigment responsible for the skin complexion.
It contains effective natural ingredients that lightens and brightens up the skin complexion. It helps to clear the skin by removing dead skin cells and bacteria build-up on the overall body.
This soap also minimises the appearance of pimples, acne scars, blackheads, dark spots, freckles, blemishes, sunburns, discoloration and melasma. It is also suitable for all skin types.
For skincare producers and manufacturers, this soap is actually good for promixing. You can use it to promix whatever you want for your clients and the result you'll get will be very satisfying.
It is mild on the skin, has an amazing fragrance and lathers very well. This soap is moisturizing and soothes the skin. It restores and refreshes the body and gives you a cool feeling after bath.
If you are a lover of organic products, then bavaria international soap is for you. It is very hydrating and has no side effects on the body while lightening and also brightening your skin.
You can also try glutathione skin whitening soap or idole papaya whitening soap as alternative.
Bavaria International Soap Ingredients:
Glutathione, Glycerin, Water, Artocarpus Lakoocha Roxb, Coconut Oil (Cocos Nucifera Oil), Palm Oil (Elaeis Guineensis Oil), Sodium Hydroxide Solution 50%, Extract Fragrance Oil.
Bavaria International Soap Side Effects:
It doesn't have any side effects.
Bavaria International Soap Benefits:
1: It exfoliates the skin
2: It nourishes the skin
3: Moisturises the skin
4: Rejuvenate skin cells
5: It cleanses the skin pores
6: It brightens the skin tone
How Good Is Bavaria Soap:
It is a really good bath soap that will lighten, brighten and even out your skin complexion.
How To Use Bavaria Soap:
Rub the soap with water on your palm to form bubbles and apply on wet face. Massage the lather gently and rinse it off. Dry your face and then apply some good moisturizer afterwards.
Bavaria Soap Price In Nigeria:
It cost N1000 in markets and cosmetics shops.
Where To Buy Organic Soaps:
You can buy the original soap online from trusted vendors either on Jumia or on Konga.
Watch & Subscribe To Our YouTube Channel: