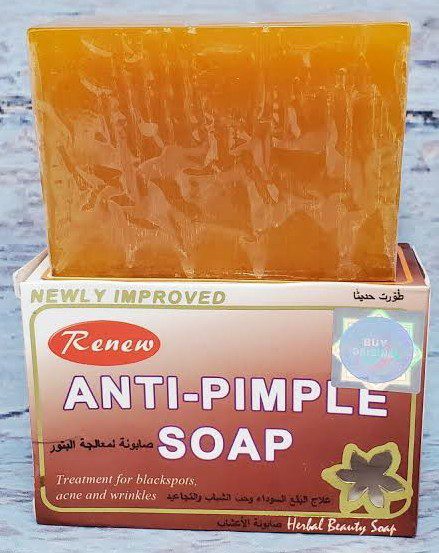 Anti Pimples Soap is a very good soap which is famous for its effectiveness in drying out your pimples fast. It gets rid of stubborn acne, clears the scars and prevents blackheads on your face.
This soap also clears dark spots left behind by the pimples, giving you a smooth and spotless skin. It also prevent reoccurring pimples for those people whose acne are frequent visitors.
In the process of drying out the pimples, this soap dries out your skin alongside, which is why it is advisable to use a moisturizer after washing off the soap. You can use a good moisturizing face cream or a serum to get rid of the dryness.
This anti-pimples soap is suitable for all skin types but I personally won't advise a dry skinned person to use the soap, as it might add salt to your injury if you know what I mean by that.
For faster and more rapid effectiveness of the soap, use it twice a day. You can apply the soap on your face, let it rest for about five minutes, then wash it off and have your bath with it.
There was a time that my younger sister came back from school for a short period of holiday and her roommate came with her. The girl didn't want to go home since the holiday is very short.
Immediately I saw her, the first thing I noticed was her pimples filled face. I didn't say anything immediately because I didn't want to embarrass her, considering that she is a first time guest.
I gently brought up the topic after we had done some gisting and she's already feeling at home and it turns out that she has been battling with it for a while. She is a very pretty lady and all those pimples, acne scars and the dark spots are really trying to overpower her dazzling beauty.
I immediately went online and searched for some home remedies but all of them seems to take time to see result. So, we settled for this anti-pimples soap which she started using.
And by the time their holiday was over, there are already good visible changes. And she was very happy she made the decision to stay back with us because her self-esteem has been restored.
Honestly, having a face full of pimples, acne and dark spots can mess with our emotional stability and self-confidence. Everybody should be able to have a product that works for them always.
So you can give this anti-pimples soap a trial and it might just be your best bet. If you have a very dry skin that easily get irritated, you should opt for something else as this may be too harsh.
I highly recommend anti pimples soap to those who suffer from reoccurring pimples all the time without break. This soap really works in clearing your face of acne and dark spots in a short time.
You can also try smooth as silk soap, cottage fresh soap or yori yori soap as an alternative.
Anti Pimples Soap Ingredients;
Refined Coconut Oil, Olive Oil, Refined Glycerine, Vitamin A Solution, Triethanolamine, Fixative Colorant and Deionized Water.
Anti-Pimples Soap Side Effects;
It doesn't have any side effects.
Anti Pimples Soap Benefits;
1: It dries out pimples
2: It smoothens the skin
3: It gets rid of acne scars
4: It gets rid of dark spots
5: It clears dead skin cells
How Good Is Anti-Pimples Soap:
It is a very good soap that will clear, smoothen and brighten up your skin and make it healthy.
How To Use Anti Pimples Soap:
Rub the soap with water on your palm to form bubbles and apply on wet face. Massage the lather gently and rinse off. Clean your face with a towel and apply some moisturizer afterwards.
Anti Pimples Soap Price In Nigeria:
It cost N1200 in markets and cosmetics shops.
Where To Buy Anti-Acne Soap:
You can buy the original soap online from trusted vendors either on Jumia or on Konga.
Watch & Subscribe To Our YouTube Channel: