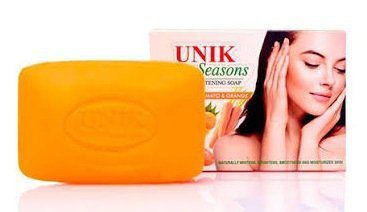 Unik Four Seasons Soap is a mild soap that cleanses, conditions, refreshes, nourishes, moisturizes and smoothens the skin. It also rejuvenates and makes your skin healthier.
This soap is formulated with natural ingredients like papaya, carrot, tomato and orange extracts which are excellent sources of nutrients for the skin. It creates a lathering foam which makes the product very easy to use on the whole body.
I always prefer using skin lightening bath soaps because it is safer than using bleaching creams. I am more inclined to natural skin products that gives twice the effect and less the side effects.
I use different soaps for various purposes such as exfoliating and lightening to see which one best suit my skin. I have used a lot of soaps and can guide you on what to buy that really works.
I have used unik four seasons soap on my face and my whole body and I highly recommend it to anyone who wants to become fairer naturally or simply wants to maintain their skin complexion.
If you have gotten your skin complexion to the colour you want it to be, then you can easily maintain it with this soap. Unik will make your skin supple, luminous and radiantly beautiful.
You can also try two tigers lightening soap, gluta-c soap or veet gold soap as alternative.
Unik Four Seasons Soap Ingredients:
Sodium Palmate, Sodium Palm Kernelate, Sodium Chloride, Tetra Sodium EDTA, Papaya Extract, Orange Extract, Carrot Extract, Tomato Extract, Glycerin, Tinoguard TT, Titanium Dioxide, Deionized Water, Color and Fragrance.
Unik Soap Side Effects:
It doesn't have any side effects.
Unik Soap Benefits:
1: Lathers very well
2: Smoothens the skin
3: It nourishes the skin
4: Moisturises the skin
5: It cleanses the skin pores
How To Use Unik Four Seasons Soap:
Rub the soap with water on your palm to form bubbles and apply on wet face. Massage the lather gently and rinse off. Clean your face with a towel and apply some moisturizer afterwards.
Unik Soap Price In Nigeria:
It cost N600 in markets and cosmetics shops.
Where To Buy Unik Herbal Soap:
You can buy the original soap online from trusted vendors here on jumia shopping mall.
Watch & Subscribe To Our YouTube Channel: