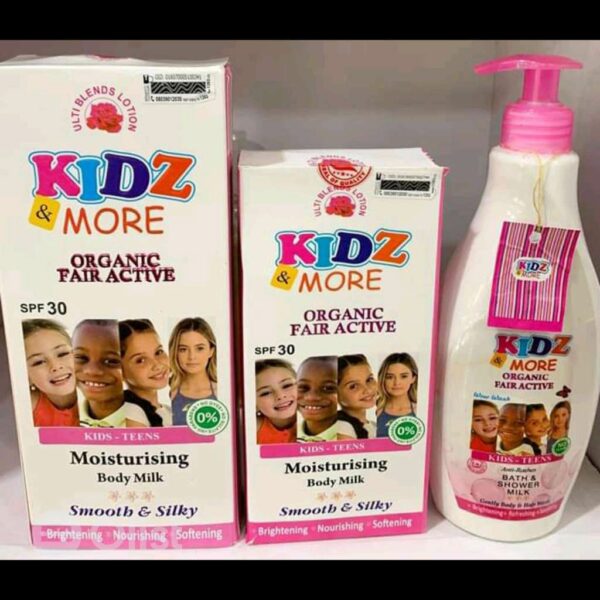 Kidz and More Lotion is a rich moisturizing body milk cream designed for children and teenagers to combat excessive dryness, flakiness, and also rough skin to leave their skin feeling rejuvenated.
It brightens, nourishes and also revitalizes your child's complexion by gently and slightly toning his or her skin tone. Kidz and more lotion is a natural body milk loaded with key components.
This cream promotes healthy new skin cells for developing kids, teens, and the entire family. It is gentle on their skin, nourishing and gets rid of dirts, impurities, excess oil and contaminants.
It also renews, refreshes and reveals a healthier, brighter and radiant skin complexion. It is a very hydrating essence that leaves skin feeling soft, so pleasant, and silky smooth after application.
Kidz and more lotion soothes and moisturizes skin while helping to heal diaper rash. It relieves itching caused by dry skin, cradle cap, flaky and eczema. It locks in moisture and heals the skin.
I highly recommend this lotion to mothers who are passionate about looking good because kidz and more lotion will make everyone admire your children skin and ask what you're using on them.
You can also try vaseline intensive care, pears baby lotion or dove body cream as alternaltive.
Kidz and More Lotion Ingredients:
Deionized Water, Cetostearyl Alcohol, Isopropyl Palmitate, Tocopheryl Acetate, Mineral Oil, Silicone, Glycerin, Carbomer, Coconut Oil, Liquid Gemel Plus, Shea Butter, Vitamins, Fragrance.
Kidz and More Side Effects:
It does not have any side effects.
Kidz and More Lotion Benefits:
1: It tones the skin
2: It softens the skin
3: It relieves dry skin
4: It hydrates the skin
5: It heals diaper rash
6: It brightens the skin
7: It nourishes the skin
8: It smoothens the skin
9: It moisturises the skin
10: It relieves inflammation
How Good Is Kidz and More Lotion:
It is a really good cream that you would be thankful for using on your children's body.
How To Use Kidz and More:
Pump out some amount of the lotion on your palm and gently massage it all over your body until it is all completely absorbed into your skin.
Kidz and More Lotion Price In Nigeria:
It cost N1600 in markets and cosmetics shops.
Where To Buy Kidz and More:
You can buy the original cream online from trusted vendors either on Jumia or on Konga.
Watch & Subscribe To Our YouTube Channel: