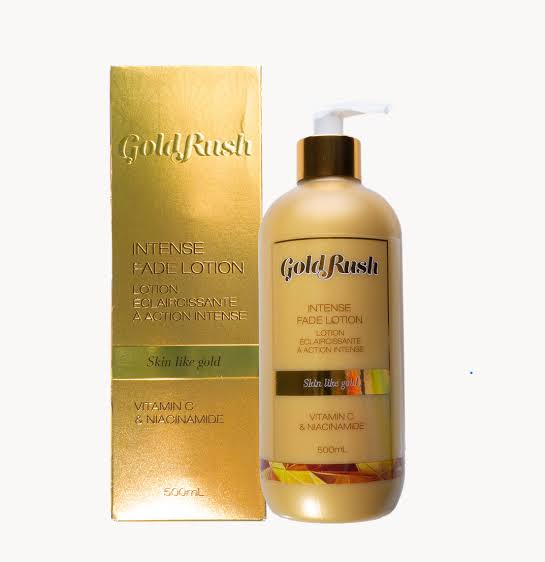 GoldRush Intense Fade Lotion is a very potent lightening lotion formulated with only natural plant extracts and fruit acids. This lotion is very safe to use because of its natural components.
Chances you know the best lightening body lotion for African skin are slim, because skin lightening is a multi billion dollar industry and it can be very difficult to break the code. But not to worry, because we are about to reveal to you one of the best kept secrets in the beauty industry.
GoldRush is one of the best lotions because it does not cause reactions or side effects that comes with using skin lightening products. Most lightening products contains harsh chemicals that lightens your skin rapidly and starts doling out side effects that are really difficult to treat.
But the distinct quality of GoldRush lotion is the medicinal effect it has on the skin. It works by safely suppressing production of melanin in skin cells. It treats hyperpigmentation, hormonal acne, discoloration, pimples and stretch marks.
It repairs damaged skin barrier caused by using products that contain harsh chemicals such as steroid, mercury or hydroquinone. This lotion targets white dots, green veins, stretch marks, unhealthy looking skin. It repairs and restores skin clarity, improves skin texture and health.
This cream moisturizes, hydrates and conditions your skin, making it soft, smooth, luminous and glowing. It contains antioxidants which protects your skin from free radicals and it does not cause dark knuckles, green veins or white dots.
It is formulated with Vitamin C and Niacinamide as main lightening ingredients, the benefits of these two vitamins on the skin are numerous. They are the gold standard ingredients for skin lightening. Using GoldRush lotion is comparable to using medicinal herbs on your skin. It has healing effect in addition to enhancing skin tone.
Because GoldRush lotion does not contain any harmful ingredients, it is safe to use and it is formulated using modern advanced skincare technology which makes the ingredients penetrate your skin easily for desired result.
This lotion is formulated with premium Grade A ingredients, so that you can get the best out of the lotion. This lotion is stable and does not change color. It is also suitable for all skin types.
I highly recommend this GoldRush Intense Fade Lotion to anyone who wants to lighten their skin safely without any side effects. This lotion really works and you will definitely be impressed with the great results and it is totally worth the price.
You can also try white express lotion, goji berry lotion or pretty white lotion as an alternative.
GoldRush Main Lightening Ingredients:
Vitamin C and Niacinamide.
GoldRush Lightening Lotion Side Effects:
No, it doesn't have any side effects.
GoldRush Lightening Lotion Benefits:
1: It clears dark spots
2: It clears acne scars
3: It heals sun damage
4: It reduces signs of aging
5: It gives an even skin tone
6: It reduces skin inflammation
7: It repairs damaged skin barrier
8: It gets rid of hyperpigmentation
9: It lightens skin safely and effectively
10: It is safe to use by nursing mothers and pregnant women
Does GoldRush Lotion Contain Hydroquinone?
No, it doesn't contain hydroquinone.
Does GoldRush Lotion Contain Mercury?
No, it doesn't contain mercury.
Does GoldRush Lotion Contain Steroid?
No, it doesn't contain steroid.
How Good Is GoldRush Intense Fade Lotion:
It is a very good lotion that lightens your skin safely and make your body smooth, and soft.
How To Use GoldRush Lotion:
Pump out some amount of the lotion on your palm and gently massage it all over your body until it is completely absorbed into your skin.
GoldRush Lotion Price In Nigeria:
It cost ₦16,500 in markets and cosmetic shops.
Where To Buy GoldRush Intense Fade Lotion:
You can buy the original cream online from trusted vendors either on Jumia or on Konga.