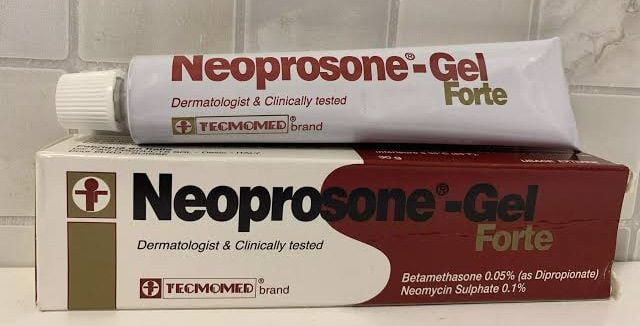 Neoprosone Brightening Cream is a wonderful and effective gel that lightens the skin very fast. It evens out your complexion and makes your skin clear, silky soft, satin-smooth and beautiful.
This gel seriously works, it makes your skin feel warmed up. It doesn't sting, burn or make your skin hot. It also tightens the skin, fades away dark spots quickly and brightens up your skin.
It is quite greasy though and can dry out your skin. Neoprosone cream is very potent and should not be used under the sun to prevent adverse side effects. It is best used at night.
This cream doesn't waste time as the effect is visible within a matter of days. If you are looking for oshaprapra (sharp sharp) whitening, then neoprosone brightening cream is your sure bet.
Neoprosone cream can be mixed with other creams or body lotion to boost its effect or to alleviate any irritation or side effects that may occur while using any skincare products at all.
Neoprosone gel can turn you into an albino in a month if you use it alone without promixing. It all depends on how consistent you are but be rest assured that it really works and is very effective.
I highly recommend neoprosone brightening cream to anyone who wants to lighten their skin very fast. It is effective in clearing skin problems and evening out your complexion in a short time.
You can also try lemonvate cream, epiderm cream or pharmaderm cream as alternative.
Neoprosone Brightening Cream Ingredients:
Betamethasone 0.05% (as Dipropionate) and Neomycine Sulphate 0.1%.
Neoprosone Gel Side Effects:
1: It can cause redness
2: It can cause green veins
3: It can cause skin thinning
4: It can cause inflammation
5: It can cause stretch marks
Neoprosone Gel Benefits:
1: It is used to bleach the skin
2: It is used to remove pimples
3: It is used to fade away scars
4: It is used to clear dark spots
5: It is used to remove patches
Is Neoprosone Gel Good For Pimples?
Yes, it is good for pimples.
Is Neoprosone a Bleaching Cream?
Yes, it is a bleaching cream.
Does Neoprosone Gel Contain Chemicals?
Yes, it contains chemicals.
Does Neoprosone Gel Contain Hydroquinone?
No, it doesn't contain hydroquinone.
Does Neoprosone Gel Lighten The Skin?
Yes, it lightens the skin complexion.
How Good Is Neoprosone Brightening Cream:
It is a really good cream that will get rid of your skin problems and even out your complexion.
How To Use Neoprosone Gel:
Take some of the cream and gently massage it into your skin until it is all completely absorbed.
Neoprosone Gel Price In Nigeria:
It cost N2500 in markets and cosmetics shops.
Where To Buy Neoprosone Brightening Cream:
You can buy the original cream online from trusted vendors either on Jumia or on Konga.
Watch & Subscribe To Our YouTube Channel: