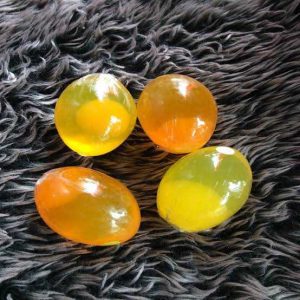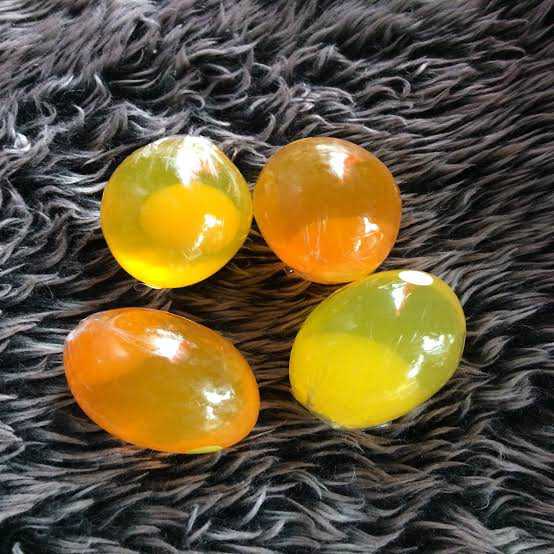 Collagen Egg Soap is enriched with collagen, vitamin C, and vitamin E to moisturize, firm and tighten the skin. It eliminates wrinkles, acne, blackheads, blemishes, freckles and dark spots.
It contains effective antioxidants that clears, lightens and brightens the skin complexion and makes the face and body luminous, supple, soft and very smooth within a short period of time.
This soap is also formulated with essential oils that relieves the skin from stress to promote a youthful, radiant and uniform glowing skin. It also deeply penetrates and exfoliates your skin.
This soap deeply cleanses and removes all dirts and impurities from the skin pores. It is specially designed to moisturize and make the skin soft, smooth and supple. It clears blemishes, freckles, acne scars and also discoloration from the body.
It breaks the bond that holds dead skin cells together and reveal the healthy and moist skin underneath through its inherent capability of deep exfoliation. It evenly brightens the skin.
It enhances skin elasticity by getting into the skin pores and working in the epidermal layer of the skin to deeply moisturise and maintain the skin protein for a tighter and visibly firmer skin.
If you are looking for a lightening soap that will tighten up your loose skin and makes it firm, then collagen egg soap is your sure bet. It also makes your body healthy and naturally beautiful.
I highly recommend collagen egg soap to those who wants to become lighter, brighter or just wants to maintain their skin complexion. It really works and is suitable for all skin types and color.
You can also try glutathione soap, fruitamin soap 10 in 1 or caro white soap as alternative.
Collagen Egg Soap Ingredients:
Collagen, Glutathione, Sodium Stearate, Glycerin, Aqua, L-ascorbic acid (Vitamin C), Tocopherol (Vitamin E), Dipropylene Glycol, Sodium Laurate, Sodium Laureth Sulfate, Cocamidopropyl Betaine, Tetrasodium EDTA, Sucrose, Fragrance.
Egg Soap Side Effects:
It doesn't have any side effects.
Egg Soap Benefits:
1: Lightens the skin
2: Brightens the skin
3: Tightens the skin
4: Calms redness and swelling
5: Eliminates acne and wrinkles
How Good Is Collagen Egg Soap:
It is a really good bath soap that will lighten, tighten and even out your skin completely.
How To Use Collagen Egg Soap:
Wet the soap and rub it on your face in a circular motion. Leave the lather on for some minutes, then rinse off, pat your face dry with a clean towel and apply some moisturizer afterwards.
Collagen Egg Soap Price In Nigeria:
It cost N1000 in markets and cosmetics shops.
Where To Buy Collagen Soap:
You can buy the original soap online from trusted vendors either on jumia or on konga.
Watch & Subscribe To Our YouTube Channel: