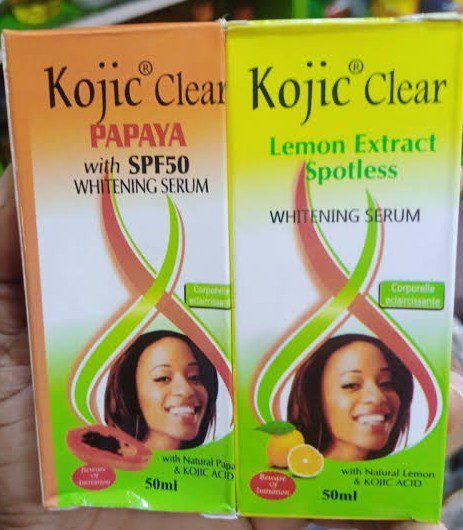 Kojic Clear Whitening Serum is a potent oil that is specially formulated for the fast clarifying, unifying, lightening, brightening and whitening of your skin complexion. It is made in Thailand.
It is very effective in the removing and fading of stubborn dark spots, blemishes, scars and age spots. It lightens the skin and makes it radiant. This serum softens and smoothens out dry skin.
It is made with natural lemon and kojic acid. Lemon natural level of citric acid allows it to have an exfoliating effect on the skin. It reduces hyperpigmentation and fades away dark spots.
Kojic acid have an anti-aging effect on the skin. It lightens the skin very fast and improves the appearance of your age spots and also helps to reduce the chances of bacterial skin infections.
This serum special combination of ingredients, clears up your face and body of spots, blotches and blemishes, as well as lightening your skin complexion and giving you a fair flawless skin.
When I used this serum, I was having a lot of stubborn dark spots and some dead skin on my legs and hands. Mixing this oil into my cream made it look like I was exfoliating my skin.
The whole dead skin cleared off within one week and the following week, you needed to see my younger looking skin with so much glow and radiance. I was looking flawlessly so beautiful.
I would always look at myself in admiration because my skin hasn't looked that good for a long time now. I didn't need anyone to tell me because the difference was so very obvious.
The dark spots also faded gradually and my skin became even tone, luminous and attractive. Like you can't stop gazing at me and wondering in your mind. The beauty it gave me was top notch.
I highly recommend kojic clear whitening serum to people struggling with stubborn dark spots and uneven complexion. This oil will clear up your skin and give you a uniform complexion.
You can also try bb clear serum, clinic clear serum or lemon clear serum as an alternative.
Kojic Lemon Extract Serum Ingredients;
Octyl Methoxycinnamate 0.50%, Water, Glyceryl, Stearate, Petroleum, Cetyl Alcohol, Glycerin, Stearic Acid, Dea-Cetyl Prosphate, Sodium Bisulite Dimethione, Tocophery Acetate, Sun Screen, Disodium EDTA, Xanthan Gum, Trieth-anoalamine Phenoxythanol, Methylparaben, Propylparaben.
Kojic Clear Whitening Serum Side Effects;
It doesn't have any side effects.
Kojic Clear Whitening Serum Benefits;
• It lightens the skin
• It clears dark spots
• It gets rid of acne scars
• It gets rid of hyperpigmentation
• It clears age spots and wrinkles
How Good Is Kojic Lemon Extract Serum:
It is one of the best treatment serum out there for any skin problems you maybe suffering from.
How To Use Kojic Clear Whitening Serum:
Apply the serum directly on your dark knuckles, elbows, knees, ankles and feet. If you want to use it on your whole body, make sure to mix with your cream. If you want to use it on your face, mix it with your face cream before applying it.
Kojic Clear Lemon Extract Spotless Serum Price In Nigeria:
It cost N1000 in markets and cosmetics shops.
Where To Buy Kojic Clear Whitening Serum:
You can buy the original cream online from trusted vendors either on Jumia or on Konga.
Watch & Subscribe To Our YouTube Channel: