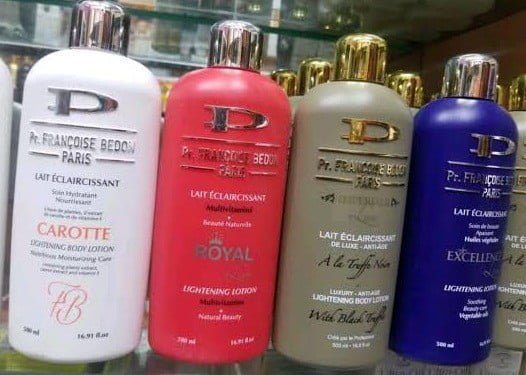 Pr Francoise Bedon Cream is a maintenance lotion that brightens your skin complexion. It provides long lasting moisture to the skin, fades discoloration and gives you a uniform skin tone.
This lotion prevents excess melanin production resulting in a brighter skin tone. It also clears dark spots and fades discoloration. It makes your skin clear, youthful looking and luminous.
It contains natural ingredients that are effective in toning and removing patches from the skin. This lotion clears scars, wrinkles, blemishes, melasma, sunburns and freckles from the body.
This cream is gentle on the skin and it unifies, clarifies and promotes skin rejuvenation with strong skin lightening complex that restores the skin and makes it smooth, radiant and beautiful.
It smoothens the skins and clears brown spots, sunburns, wrinkles, blemishes, all dark spots, melasma and discoloration. This cream gives you a clear, flawless and glowing complexion.
If you want to lighten your skin fast, you should buy the complete range of the francoise bedon lotion for quick result. It will work gradually with time if you use only the lotion without promixing.
So if you're not in a hurry to lighten your skin fast but just wants to maintain and brighten up your skin complexion, you can forget about mixing it with anything like serum or lightening body oil.
I highly recommend pr francoise bedon cream to anyone who wants to maintain their skin tone and brighten up their complexion. It is not a bleaching cream but it will even out your skin and give you a uniform and glowing complexion.
You can also try 55h+ body lotion, QEI+ Paris lotion or vaseline intensive lotion as alternative.
Pr Francoise Bedon Lotion Ingredients:
Aqua, Allantoin, Glycerin, Paraffin, Vitamin E, Kojic Acid, Argan oil, Liquorice Extract, Glyceryl Stearate, Isopropyl Palmitate, Cetearyl Alcohol, Dipropylene Glycol, Betula Alba, Ethoxydiglycol, Glycyrrhiza Glabra, Citrus Limonum, Sambucus Nigra, Tilia Corata, Morus Nigra, Ethylhexyl Methoxycinnamate, Sodium Citrate, Sodium Lauryl Sulfate, Sodium Metabisulfite, Disodium EDTA, Hexyl Cinnamal, Linalool, Coumarin, Limonene, Methylparaben, Hydroxcitronelial, Propylparaben, Hydroxyisohexyl-3-cyclohexene Carboxaldehyde, Alpha-Isomethyl Lonone, p-Chloro-m-Cresol and Fragrance.
Pr Francoise Bedon Cream Side Effects:
It doesn't have any side effects.
Is Pr Francoise Bedon a Bleaching Cream?
No, it is not a bleaching cream.
Does Pr Francoise Bedon Have Hydroquinone?
No, it doesn't contain hydroquinone.
How Good Is Pr Francoise Bedon Lotion:
It is a really good cream that would clear your skin and make your complexion very beautiful.
How To Use Pr Francoise Bedon Cream:
Pump out some amount of the lotion on your palm and gently massage it all over your body until it is completely absorbed into your skin.
Pr Francoise Bedon Cream Price In Nigeria:
It cost N8800 in markets and cosmetics shops.
Where To Buy Pr Francoise Bedon Cream:
You can buy the original cream online from trusted vendors either on Jumia or on Konga.
Watch & Subscribe To Our YouTube Channel: