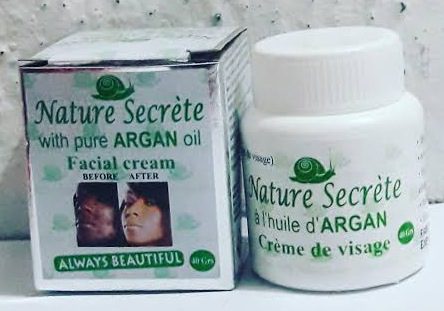 Nature Secret Face Cream is made with natural ingredients to lighten your skin, clear dark spots, moisturises and protects it against dryness. It also softens, smoothen and refreshes your face.
It is formulated with different speckle removing emollients to retain aging skin and make it glow. It tones and corrects previous skin reactions and side effects caused by skin bleaching products.
This moisturizer is a treatment cream designed to remove stubborn dark spots from your face. It makes your skin to be lighter, soft, satin-smooth, radiant, flawless, luminous, clearer and beautiful.
It lightens your skin tone and gives you a clearer and luminous skin tone. It evens out your skin complexion and gives you a flawless, radiant, youthful looking and very beautiful complexion.
This cream restores and revitalizes your skin, it also boosts collagen and elastin to maintain the health of your skin. It is made to eliminate dead skin cells to regenerate new ones underneath.
This cream erases discolorations and improves your skin elasticity. It refreshes and revives the skin tone and texture. It also makes your skin fairer by reducing the production of melanin.
I highly recommend this face cream to anyone who wants to quickly clear dark spots, lighten, brighten and whiten their skin. It really works to make your face become fair within a short time.
You can also try madam white face cream or this gluta white face cream as an alternative.
Nature Secret Face Cream Ingredients:
Water, Mineral Oil, Cetyl Alcohol, Fruit Acid, Salicylic Acid, Benzoique Acid, Allantoin, Glycerin, Monopropylene Glycol, Titanium Oxide, Huile D'Argan, Bave D'escargot, Extract De Ginseng, Exfoliants Aquatiques and Fragrance.
Nature Secret Cream Side Effects:
It doesn't have any side effects.
Does Nature Secret Face Cream Contain Hydroquinone?
No, it doesn't contain hydroquinone.
How Good Is Nature Secret Face Cream:
It is a really good face cream that will lighten, whiten and brighten up your skin complexion.
How To Use Nature Secret Cream:
Take some of the cream and gently massage it into your skin until it is all completely absorbed.
Nature Secret Face Cream Price In Nigeria:
It cost N800 in markets and cosmetics shops.
Where To Buy Nature Secret Cream:
You can buy the original cream online from trusted vendors either on Jumia or on Konga.
Watch & Subscribe To Our YouTube Channel: