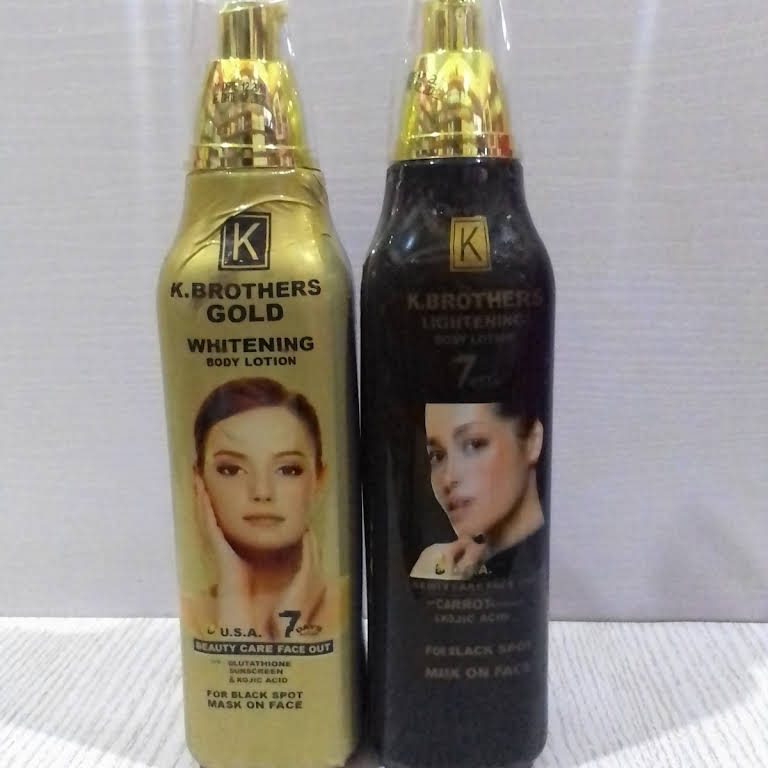 K Brothers Lotion is a wonderful body cream manufactured in Thailand. It lightens, brightens, moisturises and protects the skin. It takes very good care of your skin without any side effects.
I have not personally used this cream but learnt about it through my aunty who brought a friend to me for skincare consultation. After we were done with our appointment, I asked my aunty about her own skincare routine and concerns.
My aunty now told me she has no concerns about her body because k brothers lotion have been taking good care of her skin for almost 3 years now without giving her any side effects.
I now asked her to tell me about the cream in full details, so I could try it or recommend it to my clients. So, here is the honest review from my aunty who has been using this cream for years.
She says the cream is very moisturizing, it is non-greasy and easily penetrates into the skin. She had a dull looking skin that was discolored before she began using this k brothers lotion.
Within 2 months that she used this cream, it really lightened and brightened her skin. Her dull complexion started glowing and her discolored skin was now even tone and youthful looking.
She told me her daughter was jealous and decided to start using the cream after seeing how the lotion has transformed her mother's skin but unfortunately it did the opposite for her.
Her daughter who is dark skin in complexion looked bleached after 2 weeks of using this lotion. It lightened her skin and made her complexion look fanta and coke. It didn't give her any side effects but her skin was uneven.
So from her narration, it is obvious this cream is meant for fair people. If you are not interested in lightening your skin, then this lotion is not for you because it tones the skin complexion fast.
I highly recommend this cream to naturally fair people who for any reason became darker and wants to restore their skin color back to light or to those who wants to lighten their complexion.
K brothers soap and k brothers face cream are also good products from this same company.
K Brothers Lotion Ingredients:
Purified Water, Glutathione, Kojic Acid, Ascorbic Acid, Glycolic Acid, Cetyl Alcohol, Mineral Oil, Carrot Oil, Titanium Dioxide, Isopropyl Myristate, Glycerin, Sunscreen, Vitamin C and Vitamin E.
K Brothers Cream Side Effects:
It doesn't have any side effects.
Is K Brothers Cream a Bleaching Cream?
No, it is not a bleaching cream.
Does K Brothers Cream Contain Hydroquinone?
No, it doesn't contain hydroquinone.
How Good Is K Brothers Lotion:
It is a good cream that lightens, brightens and evens out your skin and glows your complexion.
How To Use K Brothers Lotion:
Pump out some amount of the lotion on your palm and gently massage it all over your body until it is all completely absorbed into your skin.
How Much Is K Brothers Cream In Nigeria:
It cost N3000 in markets and cosmetics shops.
Where To Buy K Brothers Lotion:
You can buy the original cream online from trusted vendors either on Jumia or on Konga.
Watch & Subscribe To Our YouTube Channel: