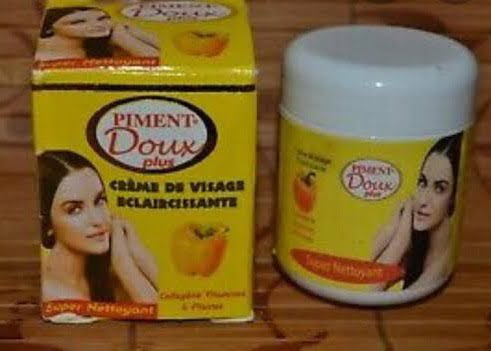 Piment Doux Face Cream is designed to evenly lighten the skin complexion and fade away dark spots on the face. It makes the skin lighter, soft, radiantly satin-smooth and flawlessly beautiful.
It lightens the skin tone and dark areas of your body like the underarms, knuckles, feet, knees, elbows and inner thighs. This cream gives you a clearer, youthful looking and luminous skin tone.
This cream is enriched with vitamin E and carrot extract to give you an even toned skin. It clears age spots, pimples, white spots and reduces the appearance of blocked pores and blackheads.
It contains plants extracts and vitamins that moisturises and allows your skin to preserve its elasticity without leaving any greasy film. This face cream will make your skin very luxurious.
This cream erases discolorations and improves the skin's elasticity. It refreshes and revives the skin tone and texture. It also makes the skin fairer by reducing the production of melanin.
However, it is important to note that it doesn't have sun protection in it. So you should avoid sunlight when using it during the day or use it together with sunscreens of SPF30 and above.
This face cream is very active and harsh to the eyes. My eyes always bring out tears non stop whenever I apply it under my eyes. I will have to thoroughly wash my face with soap and water to make it stop. So be careful not to apply it on your eyelids or under eyes to avoid teary eyes.
I highly recommend piment doux face cream to anyone who wants to get rid of pimples, acne scars, sunburns, blemishes, freckles, wrinkles, blackheads, melasma and patches on the skin.
It is very good when combined with piment doux serum, piment doux lotion and the piment doux soap from the same brand. This will give you a radiant, flawless and beautiful skin complexion.
Piment Doux Face Cream Ingredients:
Glutathione, Tocopherol, Propylen Glycol and Plants Extracts.
Piment Doux Face Cream Side Effects:
• It makes the eye teary
Is Piment Doux a Bleaching Cream?
No, it is not a bleaching face cream.
Does Piment Doux Have Hydroquinone?
No, it doesn't contain hydroquinone.
How Good Is Piment Doux Cream:
It is a really good face cream that will ensure your skin complexion is evened and beautiful.
How To Use Piment Doux Cream:
Take some of the cream and gently massage it into your skin until it is all completely absorbed.
Piment Doux Face Cream Price In Nigeria:
It cost N500 in markets and cosmetics shops.
Where To Buy Piment Doux Cream:
You can buy the original cream online from trusted vendors either on Jumia or on Konga.
Watch & Subscribe To Our YouTube Channel: